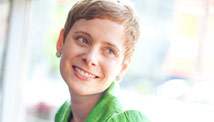 Editor's Note: Margaret Feinberg is an international speaker and author of "Scouting the Divine" and "The Organic God." Follow her on Twitter.
By Margaret Feinberg, Special to CNN
Dear Charlie,
As one of your 3 million Twitter followers, I've given you the ability to speak into my life in 140 characters or less, so I figure the least I can do is return the favor (with a few extra characters). You've been on quite a ride: setting a new Twitterlicious record for bagging the most followers in 24 hours, reducing "Two and a Half Men" to reruns on Monday nights, and displaying behavior that defies any sense of rational behavior (even among warlocks).
"Charlie Sheen LIVE: My Violent Torpedo of Truth" tour selling out in just 18 minutes, Brooke Mueller dropping the restraining order, and a big wet kiss from Jimmy Kimmel may make you feel like a #winner, but as a well-meaning fan, I'm asking you to put away the Tiger Blood T-shirts and pull back from the Hollywood media blitz long enough to consider the following:
No. 1: Though "Yes" people are always more fun to surround yourself with, maybe it's time to make room for people who will challenge your thinking and behavior. Maybe you need some time with people who don't give a rat's tail that you're Charlie Sheen.
I have two recommendations: The first is a guy by the name of Rob Bell. He's been stirring up a bit of controversy talking about who or what is really a #winner in his new book, "Love Wins." A lot of people don't know what to think about Bell or his nebulous beliefs, but I guarantee grabbing a cup of coffee with him will make you think about yourself and life differently.
My second recommendation is someone named Franklin Graham. Yep, his dad is named Billy. But before you roll your eyes, Franklin knows a thing or two about booze and babes from his youth. His story just might surprise you. Plus, he's doing a whole lot of good through an organization called Samaritan's Purse. Franklin won't care that you're Charlie; he'll only care that you're a human being, and you need more people in your life like that.
No. 2: You need some more #losers in your life. As television's highest paid actor (nearly $2 million an episode), we can all see how you feel like a "a total rock star from Mars" and that you are riding the high of being "on a drug ... called Charlie Sheen." The porn stars and the private jets make you feel like a #winner, but maybe it's time to hang with some #losers, people who have lost everything.
On the other side of the world, more than half a million people have lost loved ones, everything they own, or a sense of life as they know it. They go to bed at night and wake up in the morning under the shadows of nuclear disaster and uncertainty. Maybe it's time to take a ride to Japan sans the goddesses and remember that all the wealth, fame and celebrity status you've been given could be used to help others in need.
Please don't just write a check. Look into their eyes. Listen to their stories. The reality check will trump anything you've experienced in rehab.
No. 3: You're selling out too cheap. The erratic behavior and incoherent ramblings have left everyone wondering when you're going to crash. Comparisons to Anna Nicole Smith abound. Other than those who purchased seats for your Violent Torpedo Tour, everyone else is being given free tickets to a crash and burn party.
In case no one has told you, you're more valuable than that. Don't give them the pleasure. Instead of opting for the crash, pull up, Charlie, pull up. Embrace redemption — it's never too late to turn things around and inspire us all with goodness rather than just another implosion.
No. 4: You have five kids who need you around. Even if you dismiss every argument, I have some names you can't dismiss so easily: Cassandra, Sam, Lola, Max and Bob. Some say any media attention is good media attention, but I can't help but wonder what your kids will think and feel when they Google your name years from now.
Your children need a loving, responsible father, which you can choose to be — and maybe that's the best wake-up call of all. If you won't come to your senses for any other reason, do it for them.
As for the rest of us fans, we want you back, Charlie, on your "A" game as an actor, and as a healthy dad. We're rooting for you!
One of your fans,
Margaret
The opinions expressed in this commentary are solely those of Margaret Feinberg