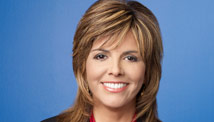 Editor's note: Jane Velez-Mitchell hosts "ISSUES with Jane Velez-Mitchell," a topical event-driven show with a wide range of viewpoints that airs every night at 7 ET on HLN.
What does homophobia look like when it's stripped bare of fancy costumes like family values and tradition? It looks like that group of strange, angry people who protest at the funerals of U.S. soldiers who've died fighting for our country.
You know them. They hold up signs that say "God Hates Fags" and "Thank God for Dead Soldiers." (The U.S. Supreme Court ruled this month that the group's actions are constitutionally protected free speech.)
The group's hypothesis is that God is punishing America for its acceptance of homosexuality. Many of us wonder, to borrow a phrase from Jerry Seinfeld, who are these people?
Recently, on my HLN show, I got some insight during an interview with Nate Phelps. He's the estranged son of Pastor Fred Phelps, the leader of the infamous Westboro Baptist Church, which organizes those anti-gay protests.
Read the full story