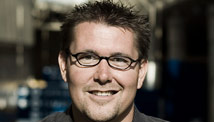 Editor's Note: Mark Batterson is lead pastor at the National Community Church in Washington, D.C. He is the author of "In a Pit with a Lion on a Snowy Day," "Wild Goose Chase" and "Primal: A Quest for the Lost Soul of Christianity."
By Mark Batterson, Special to CNN
When I was a seminary student, my wife and I went to downtown Chicago for a taping of "The Oprah Winfrey Show." When the producer came out to prep us for the show, I was embarrassed for him because he had dirt on his forehead. Didn't he look in the mirror that morning? Why didn't someone tell him? My embarrassment for him turned into embarrassment for myself when I discovered it was Ash Wednesday and the dirt on his forehead was actually ashes that symbolized the day of repentance that begins Lent.
I grew up going to a wide variety of Protestant churches, but none of them practiced or even mentioned Lent. It wasn't until a few years ago, well into my tenure as lead pastor of National Community Church, that I discovered the value of Lent. It has since become a meaningful season in the cycle of my spiritual life. During the last few Lenten seasons, I've incorporated a fast into my routine. One year I gave up television. Another year I gave up soda. I've also done a variety of food fasts for Lent.
In my experience, giving something up for Lent has made the Easter celebration far more meaningful and even helped me develop the spiritual discipline of fasting. Fasting during Lent has helped me identify with the sacrifices Christ has made for me, and it's also helped me focus on the reason for the season. The celebration of the resurrection of Christ has become far more meaningful since I started observing Lent.
The church I pastor is a rather non-traditional Protestant church. We are absolutely orthodox in theology but a little unorthodox in practice. We meet in five different theaters around the metro D.C. area. We own and operate a coffeehouse on Capitol Hill that gives all of its net profits to local community projects and humanitarian causes in other countries.
Along with new innovations, however, we've also rediscovered the value the ancient traditions. While we may not practice Lent the same way the Catholic church does, we are reinventing it in a way that is meaningful to us. We put our unique fingerprint on those traditions, and that keeps them from being empty rituals.
I'm afraid that many Protestant churches have a very short-term memory. For them, church history only goes back to the Protestant Reformation and Martin Luther. While we may have our theological differences, we share a long history, and I believe there are things that Protestant and Catholic churches can learn from each other in ways that don't compromise their core beliefs.
I for one am thankful for the Lenten tradition that has been cultivated, celebrated and cherished within the Catholic church. I think more Protestant churches will re-adopt some of those traditions that are part of our common church history from before the Protestant Reformation.
I think of Lent as a spiritual pre-season of sorts. The six Sundays leading up to Easter are considered mini-Easters. Like pre-season games, they prepare us for the ultimate celebration in Christendom: the resurrection of Jesus Christ. And one of the benefits, not unlike the Advent celebration surrounding Christmas, is that the celebration is extended to a longer period of time.
A few years ago I came up with a formula for spiritual growth: change of pace + change of place = change of perspective.
Let me explain what it means.
The key to spiritual growth is developing healthy and holy routines. They are called spiritual disciplines. But once the routine becomes routine, you need to disrupt the routine via a change of pace or change of place. Why? Because sacred routines can become empty rituals if you forget why you started doing them in the first place.
I'm certainly not suggesting that routines are bad. Most of us practice a morning ritual that includes showering, brushing our teeth and putting on deodorant. On behalf of your family and friends, continue practicing those routines.
But here's the spiritual catch-22: good routines can become bad routines if we don't change the routine. When you start going through the motions spiritually, it's time to mix up the routine. And Lent is a great opportunity for a natural change of pace.
Lent disrupts the status quo. It can get us out of an old routine and into a new routine.
In physical exercise, routines eventually become counterproductive. If you exercise your muscles the same way every time you work out, your muscles start adapting and stop growing. You need to disorient your muscles by changing your routine. And the same is true spiritually.
When I'm in a spiritual slump, I often snap out of it by a change of pace or a change of place. And it was Jesus who modeled this practice. He would often walk the beach or climb a mountain. I think those changes in geography are not disconnected from the practice of spirituality. It is a simple change of place that precipitates many of the epiphanies that happen in Scripture.
To snap out of a slump, sometimes all it takes is a small change in routine. Volunteer at a local homeless shelter or nursing home. Start keeping a gratitude journal. Get plugged into a small group or Bible study. Take a day off and do a personal retreat. Or just get up a little earlier in the morning and spend a little extra time with God.
One of the small changes in routine that has helped me rejuvenate me is picking up a new translation of Scripture. New words help me think new thoughts. And while you can institute those changes at any time, Lent is a perfect excuse to mix up your spiritual routine.
Why not leverage Lent by mixing up your routine? If you do, you'll celebrate Easter like you never have before.
The opinions expressed in this commentary are solely those of Mark Batterson