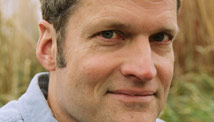 Editor's Note: Stephen Prothero, a Boston University religion scholar and author of "God is Not One: The Eight Rival Religions that Run the World," is a regular CNN Belief Blog contributor.
By Stephen Prothero, Special to CNN
I have been giving a lot of lectures recently — at institutions as different as Duke, Virginia Military Academy and the University of North Alabama — and I have settled into the routine. A bit about my book "Religious Literacy" (Americans are very religious, but know almost nothing about their own religions), a bit about my newest project, "God is Not One" (no, religions are not different paths up the same mountain) and some humor thrown in here and there.
My favorite part of any speaking engagement, however, is the Q& A, which gives me an opportunity to hear what is on the minds of college students, and allows me to freelance a bit — to think on my feet.
In an April 6 talk sponsored by the Center for Interreligious Education at DePaul University in Chicago, DePaul's Cortelyou Commons — the "Harry Potter" room, as my host David Wellman called it — was packed, thanks to the extra credit offered by many professors and the fact that I had appeared a few nights earlier on "The Colbert Report".
Usually the questions and answers last only 15 minutes or so, and often they traverse familiar ground. This time, however, the back and forth went on for an hour, and I got a lot of new questions.
The Q&A started with an angry young woman eager to exempt her beloved Confucianism from the horrors of religion. Do I really think Confucianism is a religion? Yes, I do. But Confucius hardly spoke of God or the afterlife. Well, neither do many forms of Buddhism.
I asked her whether she had been to the Temple of Confucius in Qufu, China, where Confucianism's founder is plainly worshipped as a god. She said yes, but added that Confucius would be disgusted by efforts to turn him into anything other than a sage. The debate ended only when Wellman, an assistant professor of religious studies at DePaul, told us to move on.
Apparently I wasn't particularly convincing. The next day the woman called me an ignorant "a–hole" on her Twitter feed.
My favorite exchange of the evening came from a young Muslim woman. She told me she was rooming with two Russian Jewish women who had become her friends, but that her grandfather was very upset with the arrangement.
"What should I do?" she pleaded. "It's a real problem."
At first, I had no idea. So I stalled by saying I felt like I was on the NPR program "Car Talk," where the hosts dispense advice about carburetors and timing belts but are really talking about relationships and other human foibles. In between my hemming and hawing, she asked me to explain "this Jewish-Muslim thing" — something I said I doubted I could do in a minute or two.
In the end, what I said was that her grandfather was concerned because he loved her. I then suggested she do some research on "La Convivencia" — a moment in medieval Spain, from 711 to 1492, in which Jews, Christians and Muslims coexisted peaceably, collaborating together in such arenas as mathematics, philosophy and architecture — and share her findings with her grandfather. Perhaps her dorm room could become yet another place of interreligious "coexistence."
I have often observed that religious traditions intrigue me more for the questions they ask than for the answers they offer. And so it goes for my invited lectures. At least for me, it's the questions that really get me going.