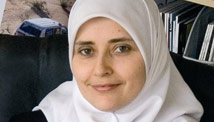 Editor's note: Sarah Joseph OBE is the CEO and editor of emel Media. She is a regular contributor to public and governmental discussions pertaining to Islam and was listed by Washington's Georgetown University as one of the world's 500 most influential Muslims.
By Sarah Joseph, Special to CNN
London, England (CNN) - The ban imposed by French President Sarkozy on wearing a face-covering veil, or niqab, is simply dangerous gesture politics, representing little more than pandering to the far right in France.
The full force of the state is coming down on fewer than 2,000 Muslim women out of a population of 6.5 million French Muslim citizens. For what purpose? We are told it is for security, the preservation of "French values" and to alleviate the oppression of women.
For security purposes, women who wear the veil should be ready to remove their face covering in places where security and identity checks are necessary, such as airports. The argument that criminals could abuse the niqab is not compelling enough to deny the fundamental freedom of religious expression to a group of French citizens - or indeed visitors to France.