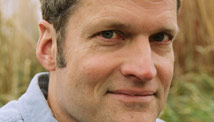 Editor's Note: Stephen Prothero, a Boston University religion scholar and author of "God is Not One: The Eight Rival Religions that Run the World," is a regular CNN Belief Blog contributor.
By Stephen Prothero, Special to CNN
Quick question: When you think of Buddhism, whose name comes to mind?
What about Islam?
A few nights ago, I spoke at the University of North Alabama on an interfaith panel that included a rabbi (Micah Greenstein of Memphis, Tennessee), an imam (Sheikh Ossama Bahloul of Murfreesboro, Tennessee) and a Protestant minister (Bishop William Willimon of Birmingham, Alabama).
During the spirited dinner conversation that preceded the event a group of us got to talking about the important role that high-profile public figures can play in breaking down religious stereotypes.
At the local level, for example, getting to know your town's rabbi can undercut prejudices you may have toward Jews. Having dinner with your Muslim neighbor can debunk stereotypes about Islam. At the national level, though, public figures control the conversation.
One reason Buddhists are accepted more often than they are feared in the United States is that when we think of Buddhism we think of the Dalai Lama and his trademark smile.
When we think of Islam, however, many of us think of Osama Bin Laden and his AK-47.
As aficionados of The Colbert Report have doubtless heard, Stephen Colbert has given up Catholicism for Lent. He became a Jew for a while but he liked that so much he guilt-tripped himself into giving up Judaism, too.
So a couple weeks ago he invited me onto his show to serve as his personal religion shopper.
I told him a little (you can't get too many words in edgewise) about Quakers and Hindus and Shakers and Jains, but when I tried to sell him on Islam he responded, "It's got kind of a PR nightmare on its hands."
Last week, however, Colbert converted to Islam in an effort, he said, to prove that moderate Muslims really do exist. It's a gag of course, and he'll be back to being one of America's most beloved Catholics as of Easter.
But this gag does raise a serious question: where are the Muslims to whom Americans can look without fear or trembling?
There is Muhammad Ali, of course, and Yusuf Islam (the former Cat Stevens) but their heydays were in the 1960s and 1970s. And there are some current NBA players and international soccer stars who practice Islam.
But these are all B-list celebrities, at least in the United States. There isn't anyone here like Stephen Colbert (who, by the way, has probably done more than any other celebrity, to repair the public image of Catholicism in the wake of the sex abuse scandals, at least among young people).
Until there is, Islam will continue to suffer from its "PR nightmare."
The opinions expressed in this commentary are solely those of Stephen Prothero.