By Jerry Simonson, CNN Senior Photojournalist
Lauderhill, Florida (CNN) - As Jewish families around the world sit down at the Seder dinner table to commemorate the Passover holiday, conversations will no doubt turn to an age-old debate. No, not the question of tax cuts versus tax increase. It's a discussion that has as many diverse opinions as any political dispute: "Who makes the best matzo balls?"
In the quest to answer this question the South Florida Golden Matzo Bowl was held. Among the judges was a Catholic priest responsible for choosing the winner in the "Father Knows Best Award."
Local chefs took up the challenge and brought their version of matzo balls to the Forest Trace community center in Lauderhill, Florida. Among the other titles to be awarded were "Most Like Mama," "Chef's Choice," and the ultimate prize, a chance to be crowned "Best All-Around Matzo Ball."
Residents lined up to taste the food and let their voices be heard, casting votes for the "People's Choice" prize. A matzo-ball-juggling chef on stilts worked the room with his rubber chicken; it was "game on."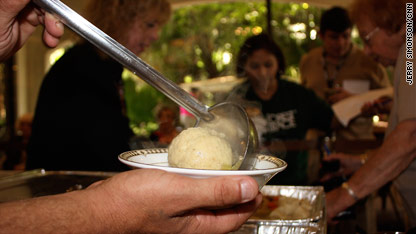 The group of judges included food experts, TV personalities, a rabbi and the priest. As the matzo balls were being scored for taste and texture, the judges referenced their own memories in grading the dishes.
"I was looking for the matzo balls experience to remind me of all the times I sat around the Seder table and experience the holiday with family, with grandparents, with friends," Rabbi Jonathan Berkun said.
Television personality Art Ginsberg, better known as "Mr. Food" said one's idea of the perfect matzo ball can be traced back to childhood. "It's like searching for Mama, the way Mama made it was the right way," says Ginsberg, "Whether it was soft, whether it was fluffy, no matter what, it's the memories that you gauge everything on."
When the trophies were handed out, three different establishments split the top prizes, reinforcing the idea that the best matzo ball is the one you like.
The age-old debate of what is the best matzo ball might not have a definitive winner. Yet the magic doesn't lie in the seasoning, size or soup. The magic is in the memories that have been made around tables as generations of families and friends gather to celebrate their traditions, and love for one another.