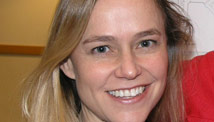 Editor's Note: Kristin Swenson, Ph.D., is Associate Professor of Religious Studies at Virginia Commonwealth University and author of Bible Babel: Making Sense of the Most Talked About Book of All Time.
By Kristin Swenson, Special to CNN
"True Grit's" stern little girl Mattie - shoot, the Coen Brothers' entire movie - dramatizes a single line of biblical text. And the way the film interprets that particular text makes that biblical verse directly related to the governor of Illinois' recent decision to ban the death penalty, a decision which was reportedly informed by the Bible.
The movie's and the Illinois governor's conclusions - about capital punishment in this case - are exactly opposite. While Mattie's justice requires death for the man who killed her dad, the governor's has no place for such execution. Yet both have biblical precedent.
So knowing about the Bible not only makes the movies more fun and enables critique of public policy, but it also paradoxically encourages you to think for yourself.
The Bible's long history of development, reflecting many voices, and the fact that it's usually read in translation invite our engagement with it not merely as passive recipients of a fixed meaning but as unique individuals bringing different points of view to bear.
The trick, of course, is knowing something about the Bible, even if you don't believe in it. And the more you know, the more intriguing it gets.
If you're not biblically literate, you can get along all right, but you're missing out. It's like a cocktail party with raucous conversation. You're invited, but until you know something about the Bible, you'll be stuck talking about the weather at the punch bowl.
Yes, "True Grit" is entertaining no matter what, and you can take Illinois Gov. Pat Quinn at his word that his death penalty decision has biblical basis, but each invites a deeper understanding. And together, they reflect the Bible's ambivalence - in this case about crime and punishment.
"The wicked flee when none pursueth," a line from Proverbs 28:1, hangs auspiciously on the screen at the beginning of "True Grit."
Knowing that Hebrew (the original language of Proverbs) creates its poetry out a system of parallel lines, might lead you to check out the line after the one quoted in True Grit: "but the righteous are as bold as a lion."
Linking the criminals' running to the boldness of a lion, the biblical verse suggests a world in which courageous good guys chase down the yellow-bellied bad with the same determination, cunning and strength as the king of beasts.
That's our Mattie, at 14 years old a cub, but single-minded in her quest to bring to justice the man who killed her father. Mattie is "the righteous," of course, and the justice she seeks is death.
Because the Bible is sacred scripture, authoritative and instructive for millions of people, many people believe, like Mattie, that certain criminals should be put to death because of what it says.
After all, the Torah, or "law," prescribes execution in several specific cases, including murder.
Yet Illinois Gov. Quinn is said to have consulted the Bible while wrestling with his decision to abolish the death penalty. What gives?
People looking to the Bible for a single, clear, yes-or-no answer about the death penalty will be disappointed, just as they are when seeking a simple, one-size-fits-all answer to abortion or environmental ethics.
For one thing, another translation of torah is "instruction." So maybe those "laws" shouldn't be taken so literally.
Indeed, while the Bible allows for all sorts of killing and would seem to demand criminal execution in certain cases, it also commands "thou shalt not kill/murder," identifies God as the only ultimate judge, and praises forgiveness and mercy.
I don't know Quinn, but I suspect he knows enough about the Bible to know that he also had to think for himself. He wisely considered that our human systems, justice included, are imperfect - and that the wrong person might be pegged for a capital crime.
Knowing about the Bible, no matter what you believe, enables you see not only why Quinn would settle on the ban but also why it was such a difficult decision: sometimes the Bible says different things.
"God said it, I believe it, that settles it," is available for bumper stickers, t-shirts, mugs, and posters. Yet the Bible's multiplicity of voices and complex history invite you to learn more and in the process to add your own voice, thoughts, and deliberations to the conversation.
First, though, you've got to learn about it.
The opinions expressed in this commentary are solely those of Kristin Swenson.