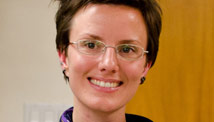 Editor's note: Sarah Shourd, a teacher, was freed from prison in Iran last year. Shourd, her fiance, Shane Bauer, and Josh Fattal were hiking in the mountains in northern Iraq in July 2009 and were arrested by Iranian border guards, accused of spying and imprisoned. Her companions remain in prison. To learn more, visit freethehikers.org.
By Sarah Shourd, Special to CNN

(CNN) - During my more than one year in solitary confinement in Iran, I read the Quran from cover to cover several times. While I am not a Muslim, in my most desperate hours I was comforted and uplifted by the wisdom it speaks.
When I came across the words "Truth hath come and falsehood hath vanished away. Verily, falsehood is ever certain to vanish" I was reminded of a line from the Bible, "Then you shall know the truth and truth shall set you free." That certainty helped keep my hopes alive that my suffering, and the suffering of my fiance, Shane Bauer, and our good friend Josh Fattal, would end.
Shortly before my release last September, I was horrified to learn from the English-language Iranian news I was allowed to watch every night that a Florida pastor, Terry Jones, planned to burn 200 copies of the Quran. I had never heard of Terry Jones but it was all too clear from where I was sitting how destructive this misguided act would be. Mr. Jones backed off but he went ahead with a Quran burning last month.