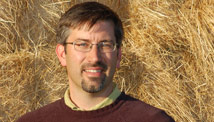 Editor's Note: Craig Goodwin is pastor at Millwood Presbyterian Church in Spokane, Washington. His book "Year of Plenty" chronicles the year he and his family consumed only things that were homemade, home grown, used or local.
By Craig Goodwin, Special to CNN
Holy Week this year has a surprising twist. The international observance of Earth Day and the Christian church's celebration of Good Friday converge on April 22.
To many in the church this will come as an unwelcome intrusion. I've learned in my years as a pastor not to schedule anything that would compete with the rhythms of Holy Week. I'm still reminded occasionally by the keepers of the church calendar about the year I agreed to do a wedding on the Saturday before Easter. I won't do that again.
For others, the threat of this coincidence goes much deeper than potential scheduling conflicts. They will see this as a sacred-secular fault line in an ongoing cultural struggle between two opposing ideologies.
When the Episcopal Church recently trumpeted this year's Earth Day as a welcome addition to Good Friday observances, the news was greeted with suspicion in some quarters. One hyperbolic headline proclaimed: "Episcopal Church Replaces God With Gaia on Good Friday."
Given the sensitive nature of Good Friday, I think there is good reason to be cautious in making connections. In a popular culture that has a knack for seamlessly combining cultural narratives, it's important to not carelessly turn Good Friday and Earth Day into some kind of earthy, spiritual, "Inception"-meets-"Toy Story 3" mashup. Instead of mixing metaphors and liturgies, I think the most helpful approach is to simply answer the question this coincidence brings to the surface: Does the death of the Jesus on the cross have anything to do with caring for the Earth?
I think a faithful reading of the Good Friday service of Tenebrae - in which candles are extinguished one by one, congregants leave the church in silence, and the cross is shrouded in a black cloth - demands that the church answer this question with an emphatic, Yes!
I haven't always been so passionate about this, but my work as a pastor and my family's journey over the last few years has changed that. Four years ago my church started a farmers' market in the parking lot and more recently helped turn an abandoned industrial lot into a community garden.
As we have paid closer attention to the intersections of faith and environment, some of our most hallowed practices have been transformed. For example, instead of using precious resources to buy small forests of poinsettias and Easter lilies every year for Christmas and Easter services, members of the congregation now join forces to buy thousands of trees to be planted in impoverished communities around the world through an organization called Plant With Purpose. As we seek to follow Jesus in our community and reflect Jesus in our practices, we are discovering that caring for the Earth is not an option, it is essential.
My work at the intersections of faith and environment took a very personal turn in 2008 when our young suburban family launched an experiment in consumption. In an effort to find a more sane and faithful way to live, we committed to a year of consuming only items that were local, used, homegrown or homemade.
Going green is not necessarily how we understood our journey at the beginning of the year, but we quickly realized that our rules landed us in the middle of a vibrant environmental movement. We joined with others in celebrating the year of the locavore, food not lawns, walking school buses, backyard chickens and the virtues of reusing and recycling. As we followed these green practices, we discovered that they have a holy rhythm to them. They connected us in important ways to Jesus - his life, his mission and, yes, his death on the cross. Based on our experience, it's not so strange to imagine Earth Day and Good Friday as appropriate companions on the calendar.
The typical Good Friday service follows the progression of Jesus' seven last words, the lights dimming with each successive reading, culminating with total darkness. Unlike every other worship service during the year where I encourage people to joyously greet each other after worship, on Good Friday I ask that everyone recess in silence. Before the triumph and victory of Easter Sunday, there is the solemn darkness of Good Friday.  This experience is an opportunity for reflection on the crisis of human sin and death, but it also points to the crisis facing God's creation.
Earth Day's collaboration with Good Friday helps the church remember that, like his love, Jesus' sacrifice is for all the Earth.  As Paul said, "We know that the whole creation has been groaning as in pains of childbirth right up to the present time. (Romans 8:22)
Along with inviting churches to embrace this coincidence as a holy reminder, I do have a word of invitation to Earth Day organizers. Just as Earth Day serves as a helpful reminder and even corrective to the church this year, Good Friday offers something helpful to the environmental movement as well.
As I understand it, Earth Day was originally conceived of as a "teach-in" on campuses to help people understand the damage that was being done to the Earth. It was less a street festival featuring green businesses and more of an earnest wake-up call declaring that there is a crisis, that we live in a world on the brink, a world in need of saving. This is something that organizers of Good Friday services and Earth Day festivities can certainly agree on.
The opinions expressed here are solely those of Craig Goodwin.