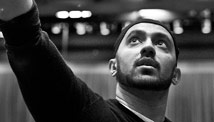 Editor's note: Imam Khalid Latif is a chaplain for New York University and Executive Director of the school's Islamic Center.
By Khalid Latif, Special to CNN
I was sitting in a KFC in Brooklyn on Sunday night (halal for those who are worried) with two of my students when my phone started to buzz like crazy as friends, colleagues and family let me know that Osama bin Laden was dead.
As we drove back to Manhattan, President Obama began his address and we watched it on an iPhone and played the audio from 1010 WINS-AM radio.
The students then went to their dorm, and I drove around Manhattan. I found groups gathering here and there, including a larger one in Times Square, but I made sure to make downtown my final destination. I knew I would find something there that my eyes had wanted to see for a long time.
I was 18 years old when the 9/11 attacks were carried out against us. Since that time I have stood at the Ground Zero site as a student, as an NYPD chaplain, as a New York Muslim leader, but all the while as a New Yorker.
I've stood there at times when the streets are full as well as times when they are completely empty. I've seen people cry there, people argue and fight, but last night was the first time that my eyes have seen so many people come and stand together, regardless of their differences.
New Yorkers in all of their diversity came out last night, and I hope it signifies a greater coming together for all of us going forward.
Many people have asked me if the U.S. administration's decision to bury bin Laden's body at sea was appropriate.
In general, Islamic law would state that a Muslim should be buried in the ground. However, everything is not black and white, and a main objective of Sharia law is to increase benefits and reduce detriments to society.
'No land alternative' prompts bin Laden sea burial
The question here is not about how a body should be buried in general, but rather how specifically the body of Osama bin Laden should be buried. The decision to bury bin Laden at sea exemplifies for us how Sharia is meant to function as it takes into consideration what would be best for society on a whole through a lens of compassion and mercy.
Consider these three points:
1) Humanity on a whole has a right that needs to be considered in regard to bin Laden's burial. Who would want this man buried next to their loved one? Is it appropriate, especially after he has caused such pain to so many, to put anyone in a situation where they might have to be buried near or next to him? I would say no.
2) The number of individuals who hate this man, including many Muslims, is extremely large. If he were buried in the ground somewhere, even at an undisclosed location, eventually we would know where his body was. Years of anger and frustration that have built up because of him would now have an outlet for expression. Whichever country had the misfortune of hosting his body would need to increase security measures around his grave. It's a good thing that no country, including Saudi Arabia, wanted to bury him in their lands.
3) There should be no opportunity for glorification of bin Laden. A grave that people could visit also would serve as an opportunity for his small group of followers to memorialize him. These individuals are skewed not only in their misreading and misinterpretation of Islam, but also - and more important - in their understanding of morals and ethics. No opportunity should exist by which they could glorify bin Laden in his death, either in the immediate future or in years to come.
On September 11, 2001, I stood in Washington Square Park and watched as the second plane flew into the World Trade Center, changing instantly the lives of many. As New York rebuilds the site, I hope that we as humanity will be able to rebuild our relationships with each other.
What makes New York great is its diversity. And what makes New Yorkers great is our ability to appreciate that diversity. I hope some ease comes to the hearts of each any every person who lost someone on that day - and that together we can begin a process toward healing and reconcilement that our city and nation needs.