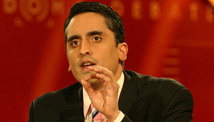 Editor's note: Arsalan Iftikhar is an international human rights lawyer, founder of TheMuslimGuy.com and global managing editor for The Crescent Post in Washington.
By Arsalan Iftikhar, Special to CNN
Although there has not been much cause for celebration for our global village over the past decade, the world was able to breathe a sigh of relief at the announcement by President Barack Obama of the killing of Osama bin Laden by U.S. special operations forces at a mansion on the outskirts of Abbottabad, Pakistan.
In addition to the vast majority of Americans who are relieved by his death, there are more than 1 billion Muslims around the world who salute the fact that bin Laden's ungodly terrorist mischief has finally come to an end. Simply put, there has been no single person in nearly a millennium and a half of Muslim history who has ever hijacked our beloved religion of Islam more than bin Laden.
Read the full story