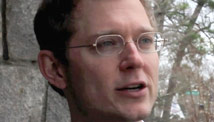 Editor's Note: The Rev. David Lewicki is co-pastor of North Decatur Presbyterian Church in Decatur, Georgia. He is a graduate of Yale University and Union Theological Seminary and was ordained in 2005 by the Presbyterian Church (U.S.A.).
By the Rev. David Lewicki, Special to CNN
On Sunday night I watched the news as it crescendoed around the president's speech declaring the death of Osama bin Laden. The talking heads worked capably with what few details they had. On the split screen, familiar spliced video footage replayed what little most of us know — or care to know — about bin Laden: wearing a turban, sitting drinking tea, a long salt and pepper beard, speaking to friends, crouching holding a machine gun, skyscrapers smoking.
Twitter gave a way to take the public temperature. Some passed information without editorial: "Bin Laden is dead!" Others tried to score political points: "took O 2 years to do what B couldn't do in 7," or "THAT'S a 'mission accomplished.'" Reports said impromptu crowds gathered in front of the White House and at Ground Zero exuberantly chanting "USA! USA!," singing our anthem. Others retorted that they would not celebrate any person's death, no matter who it was. Still others retrieved unsettling data about what it has cost us to find and kill bin Laden, in dollars and human lives.
Finally, from those with an intimate connection to the innocents of 9/11, there were tweets about tears. Tears of relief? Tears because the news dragged them back to the still-tender memories of a decade ago? Yes and yes. I was a first-year theology student in New York City on that day in 2001; I know the tears.
All of these responses are authentic for a Christian who lives in America. Bin Laden has had more influence in the last decade over the way we live our lives than any other person. He was a wedge in our politics, he disrupted our ability to come and go freely; he triggered a vast global security and surveillance apparatus. He was directly or indirectly the focus of two wars that affected the material well-being and peace of mind of millions here and across the world.
He desecrated Islam and radicalized Christianity, making some Christians more enthusiastic about military action than they might have been otherwise, while making others more enthusiastic about trying to find peaceful solutions to global problems.
He robbed people of mothers and fathers, took away their children. He made a whole nation feel vulnerable and fearful of unpredictable catastrophic violence.
One thing we might do well today is give permission to each other to feel all of the things that we might be feeling. There is no one manner by which to respond to this man's death, because his life impacted all of us, sometimes in radically divergent ways.
Beyond our feelings, Christians might also spend time considering our Lord's call to love our enemies and to pray for those who persecute us. This is not easy. If we call ourselves Americans as well as Christians, we may feel a strong civic sense that what our government did in our name was the embodiment of public justice.
But our political identity and our identity as followers of Jesus are rarely reconcilable. Jesus did not meet enemies with violence. He asserted that the way to loose ourselves of our enemies was, counter-intuitively, by loving them and forgiving them — by wanting God's best for them and believing in the Holy Spirit's power to convert any person to faithful obedience. Jesus implied that if the Spirit does not convert them to goodness in this life, any judgment of their deeds is to be left in the hands of their creator — God alone. Our job is to never cease praying that they receive God's blessing.
I have been praying for Osama bin Laden for 10 years. I was not surprised by news of his death. As I asked myself why, I suspect it is because, in my eyes, bin Laden died long ago. He died to goodness; he died to mercy; he died to peace. He died to the things that God cares most about. He was alive until this week — but he died to life a long time ago.
I have wondered over the years what God tried to do to win him back to love. I wonder about the confounding ability of human beings to resist the love of God. I wonder about these things for Osama bin Laden and I wonder about same things with respect to my own life. Today, as I have many days before, I pray for my enemy — I pray him into the hands of the God of justice and of mercy.
The opinions expressed in this commentary are solely those of the Rev. David Lewicki. This post first appeared on the Fund for Theological Education website.