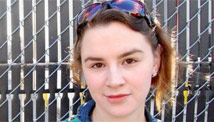 Editor's Note: Lauren Kolodkin is an undergraduate student at Boston University; among her professors is CNN Belief Blog contributor Stephen Prothero, who wrote that the celebrations that followed bin Laden's death made him cringe.
By Lauren Kolodkin, Special to CNN
For the past 10 years, my generation has had it pretty bad.
Our youth was taken away by the attacks on 9/11 and the subsequent wars in Afghanistan and Iraq. Our teen years were pockmarked by the Great Recession. Our college days are splattered with political unrest. And when we graduate from college, we will emerge overeducated and underprepared into an America with no jobs, no opportunities and no hope.
My generation has been told for years that our world is a place where there is little reason to celebrate anything.
But then, on Sunday night, President Obama announced that Osama bin Laden, leader of al Qaeda, mastermind of the attacks of September 11, 2001, was killed in Pakistan. The man who murdered thousands of Americans and instigated the war on terror is finally gone. And my generation celebrated.
Hundreds of college students across the city gathered in Boston Common and cheered together. I went from my dorm at BU. We cursed bin Laden and sang rousing renditions of "God Bless America." We smiled and laughed and waved at cameras. A friend of mine turned to me and said, "Someday we'll talk about this with our children. This is amazing." For a night, at least, we forgot our troubles and reveled in the joy of our peers.
But what exactly were we celebrating that night? Someone's death?
I know some students who shied away from the celebrations, in Boston and elsewhere, because they felt uncomfortable cheering someone else's demise. We are taught by our parents, by God, by the world around us that life is sacred, and death is a time for reflection, not revelry. For some people, this death renews memories of a mother or father lost, a friend gone or a life ruined.
Closure is rarely delivered by vengeance, and this death surely isn't the end of our sorrow. A bullet through the icon of terror does not bring your sister or brother back, it doesn't rebuild the twin towers, and it doesn't erase a decade of sadness and hardship.
I cannot imagine what it would have been like to lose someone on 9/11. I'm not from New York. I don't know anyone who works at the Pentagon. No one I knew died on that day. But I remember watching my fourth grade teacher cry that morning and refusing to tell us why, because she'd been instructed to leave that grim task to our parents.
I remember getting off the bus to find my mother waiting to tell me what had happened. I remember seeing the smoke on the television screen, choking me from a distance, clips of disaster playing over and over again.
I remember seeing Osama bin Laden's face for the first time. I was 9 years old.
My generation is cursed by those images of horror and destruction. We are cursed by that face. And since that day, we have been burdened with the consequences.
But on May 1, 2011, something changed. A man who hurt so many people will never hurt anyone again. I know that this is not the last of horrible men, but at least it is the last of this horrible man, this symbol of hatred and war and bloodshed.
That is why my generation celebrated on Sunday night and Monday morning. We did not celebrate his death; we celebrated the dawn of a new day without bin Laden. We celebrate because maybe the world isn't as bad as they told us. We celebrate because we can.
The opinions expressed in this commentary are solely those of Lauren Kolodkin