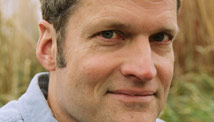 Editor's Note: Stephen Prothero, a Boston University religion scholar and author of "God is Not One: The Eight Rival Religions that Run the World," is a regular CNN Belief Blog contributor.
By Stephen Prothero, Special to CNN
A few months ago, I wrote about the predominance of Hebraic names for babies born in the United States in 2009.  Today the Social Security Administration released new data for babies born in the U.S. in 2010, and it still looks very much like a Jewish nation, at least in our pediatric wards.
The top 10 list for newborn boys begins with Jacob, of "Abraham, Isaac and Jacob" fame, who has held this top slot for 11 years running. But it also includes five other names of Hebraic origin:  Ethan (No. 2), Michael (No. 3), Jayden (No. 4), Noah (No. 6), Daniel (No. 7).
Rounding out the top 10 boys' names in 2010 were William (from the Old German), Alexander (Greek), Aiden (Gaelic) and Anthony (Latin).
The top 10 names for girls mirrored those of 2009, though a few of these names switched places. Isabella, also a Hebrew name, finished first. It means "God's promise," or "pledged to God." Only one other Hebrew name — Abigail — made the top 10 for girls.
Still, this is an astonishing showing for a religious tradition that claims only 1-2% of the American population.