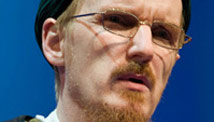 Editor's note: Abdal Hakim Murad is a lecturer in Islamic Studies at the Faculty of Divinity, Cambridge University, England. In 2010 he was voted Britain's most influential Muslim thinker by Jordan's Royal Islamic Strategic Studies Center. His latest book, "Bombing without Moonlight," is about the religious meaning of suicide bombing.
By Abdal Hakim Murad, Special to CNN
Death, as Henry James put it, is "that distinguished thing." Whether we believe in immortality or think that consciousness dies with the body, we instinctively treat it with a mixture of nervousness and respect. We remember the deaths of Socrates, of Kennedy, of Gandhi, and of Hitler.
Unless suicidal, their deaths were not of their choosing; yet in a strange way they remain a living part of their legacy. Sometimes our final moments forever shape the way we are remembered.
Read the full commentary by Abdal Hakim Murad