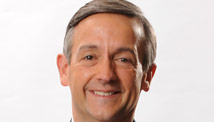 Editor's Note: Robert Jeffress is pastor of the 13,000-member First Baptist Church in Dallas, Texas and the author of 17 books, including the forthcoming "Forget Saving America!"
By Robert Jeffress, Special to CNN
In January 1961, a few days before John F. Kennedy was inaugurated as president, he invited Billy Graham to spend a day with him in Key Biscayne, Florida. After a round of golf, Kennedy and Graham were returning to their hotel when Kennedy stopped the white Lincoln convertible he was driving by the side of the road.
"Billy, do you believe that Jesus Christ is coming back to Earth one day?" Kennedy asked.
"Yes, Mr. President, I certainly do," the evangelist responded.
"Then why do I hear so little about it?" Kennedy wondered.
Were Kennedy alive today, he probably wouldn't be asking the same question.