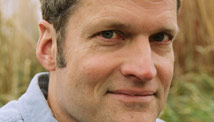 Editor's Note: Stephen Prothero, a Boston University religion scholar and author of "God is Not One: The Eight Rival Religions that Run the World," is a regular CNN Belief Blog contributor.
By Stephen Prothero, Special to CNN
I know a lot of people are eagerly awaiting 6 p.m. this Saturday, either to greet the rapturous return of Jesus with open arms or to snicker at the idiocy of the followers of radio host Harold Camping, the evangelist behind all this holy hoo-hah.
I'm looking forward to 6:01 p.m., and the recalculations and reinterpretations that invariably ensue whenever Bible believers are proud enough to imagine that they know the day and the hour of Jesus' return, and bold enough to announce their imaginations to humanity.
People have been predicting the end of the world ever since they started thinking about the world as a story with a beginning, a middle, and an end. Thus far everyone has been wrong. So we have a lot of experience as a species with what the Millerites of the 19th century called the Great Disappointment.
Initially, the Baptist doomsday preacher William Miller predicted the return of Jesus between March 21, 1843 and March 21, 1844. When the latter date passed his followers did some recalculations (based on a different Jewish calendar) and settled some other dates. When those dates passed they found another date—October 22, 1844—based on a prophesy in the Bible's Daniel 8:14 ("And he said unto me, Unto two thousand and three hundred days; then shall the sanctuary be cleansed").
After this Great Disappointment, some Millerites slinked away. Others decided that Jesus actually had returned, just not as they had expected. The notion that October 22, 1844 marked a spiritual rather than a physical return of Jesus became the basis for the Seventh-Day Adventist Church.
As for Harold Camping, he has been here before, too, predicting the arrival of Judgment Day in September 1994 only to go back to the Bible and his calculator and settle on this coming Saturday.
Predictions–and disappointments–such as these have inspired a cottage industry of social scientists trying to figure out how doomsday believers deal with the cognitive dissonance that comes "when prophecy fails."
But the bottom line is that religion persists because it is adaptable. And one of its adaptations is that it almost never goes the route of Emily Litella, the hard-of-hearing "Saturday Night Live" news commentator who would come on "Weekend Update" (in the body of Gilda Radner) and complain, for example, about the effort to turn Puerto Rico into a steak, only to be corrected by Jane Curtin. At which point she would say, "I'm sorry.  Nevermind."
I know my atheist friends are getting ready to party on May 21, and many Christians are already embarrassed by Camping and his followers. But I'm not convinced the rest of us are all that much different.
When confronted with facts that disprove their pet theories, for instance, our politicians almost never say, "Nevermind." They recalculate and equivocate and go about their business. The rest of us do much the same, often preferring in our relationships, our jobs and our worldviews (religious or otherwise) the comfort of the stories we carry around in our heads to the reality of the facts on the ground.
Religious fanatics aren't always so different from the rest of us. They are bolder, perhaps–more willing to air their craziness to the world. But the rest of us are crazy in our own way, harboring illusions about the federal budget deficit, or our spouses, or our politicians that are disproved by the facts, and dealing with cognitive dissonance with more of the same.
The opinions expressed in this commentary are solely those of Stephen Prothero.