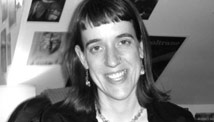 Editor's Note: Kathryn Lofton teaches U.S. religious history at Yale University and is the author of Oprah: The Gospel of an Icon, published by the University of California Press.
By Kathryn Lofton, Special to CNN
For some people, the end of "The Oprah Winfrey Show" today is no big deal. As one colleague said to me recently, "I am never home at 4 p.m. and I don't want to hear about people's feelings. Why should I care?"
Why should he? Television shows come and go. Celebrities rise and fall. This moment will disappear as soon as the next one hits the headlines, and even the most famous woman in the world will be eventually forgotten.
Commentary: My last 'Oprah Winfrey Show'
But I am a historian of religion, so it is my job not only to remember the forgotten, but to observe what is repeated from our past in the present. For a long time, I have been focused on the ways the Oprah empire resembles a religion in modern society.
Rarely do scholars now use the word cult. When we do, we use it to label small groups with a discrete set of ritual practices.
Religion, by contrast, describes something larger—larger in numbers and larger in scope. Religion is a word that captures how social groups imagine themselves relative to superhuman powers. The Oprah show broadcasted to 145 countries, telling people not only what lipstick to use and what book to read, but also what better world to conceive.
Unlike her original talk show competitors, Oprah's show seemed always to be bent upon a higher power. This became an explicit program change in the mid-1990s.
When Oprah went to Amarillo, Texas in 1998 to testify in her defense against the cattlemen who sued her for allegedly defaming the beef industry, she was asked a series of questions meant to imply that she had sensationalized the news.
Follow CNN's Belief Blog on Twitter
She explained later that the experience made her realize that she must become a tool for good in the world: "I've been guilty of doing trash TV and not thinking it was trash." Her spiritual revelation was converted into a corporate makeover that re-branded her show as "Change Your Life TV."
Episodes included two-minute spots like "Remembering Your Spirit," featuring inspirational testimonials from celebrities and everyday folk on how they learned to live a more spiritual life. Winfrey started to invite self-help authors like Gary Zukav and spiritual leaders such as Marianne Williamson for entire episodes about their teachings.
Initial responses to her programming change were largely negative, with some suggesting that her move to "Change Your Life TV" was "too evangelical."
She addressed the criticism head-on.
"It's a shame that we've evolved into the kind of society where evangelical is considered negative," she said after the start of her 1998-1999 season. "I have come to believe that we are all, or at least most of us, searching for the assurance that good exists in our world, even in the midst of evil and evil abuse."
For religious historians, Oprah's disavowal of critics is a familiar maneuver. Religious leaders often suggest that the words you use to insult them are precisely the terms of their power.
Rather than disagree with naysayers, Oprah merely asks why you aren't on board. Aren't we all worried about evil? Don't we all want the good?
In an era in which religion was increasingly portrayed as either idiotic or extremist, Oprah plotted a middle way in which her viewers could be both believers and critics, both consumers and missionaries. She criticized religious institutions on her show but she encouraged spiritual practices. She encouraged everyone to buy her favorite things but also to offer the gift of themselves to the world.
To be sure, Oprah's message focused on a particular audience. Women disproportionately found comfort in the set of problems Oprah introduced as hers (and, therefore, yours).
Yet it is important to note that her corporate makeover increased not only her spiritual consequence for women around the world, but also her profit margin. Beyond the show's new look and focus, she began to develop her brand, including, eventually, her book club, magazine, web site and her Angel Network. Her spiritualization enhanced her media incorporation.
In a recent interview, Winfrey disavowed the intensity of her Change Your Life TV message.
"Do not tell people you're gonna change their life," she told her best friend and co-conspirator Gayle King in this month's O magazine. "You want to be able to offer that, but it's up to them if they choose to receive it."
Over time, Winfrey developed a careful programming slate that seemed less overt in its converting ambitions. She invited fewer and fewer spiritual advisers, for example.
But as the star of her own spiritual transformations, she was eventually able to provide any answer to any problem. If contemporary authors caused her troubles, she turned to her bookshelf for classic authors to discuss. If American students seemed disinterested in her uplift, she turned to Africa to start a school. Her spirit became increasingly articulated as a global phenomenon.
As she departs from her ritual slot, there will be a vacuum for some. Yet if history has taught us anything, it is that the void will not be left gaping for long. "The false messiah is as old as the hope for the true Messiah," wrote Jewish theologian Franz Rosenzweig. "He is the changing form of this changeless hope."
Oprah represented humanity's ceaseless interest in spiritual responses to personal problems. We now live in her world: one of first-person confessions, required makeovers, and spiritual consumption.
The measure of her consequence will be not in whether or not she mattered to you, but whether the world you occupy looks more like hers than you know.
The opinions expressed in this commentary are solely those of Kathryn Lofton.