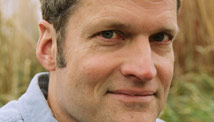 Editor's Note: Stephen Prothero, a Boston University religion scholar and author of "God is Not One: The Eight Rival Religions that Run the World," is a regular CNN Belief Blog contributor.
By Stephen Prothero, Special to CNN
Dear Governor Palin,
Your it's-not-a-campaign-bus-tour has motored through the National Archives, Mount Vernon, Arlington National Cemetery, Gettysburg, Independence Hall, the Statue of Liberty and Donald Trump's penthouse.
So obviously you are highlighting America's most historic sites. But as you head toward New England and beyond, I'd like to suggest four additional sites, sacred to the chain of memory that is American religion.
Together these sacred places acknowledge not only the powerful role that Christianity has played in American life (something you often mention) but also the fact of American religious diversity (something you might mention more).
1. Plymouth Rock
There isn't much to see here. In fact, when I took a field trip there as a kid I was disappointed, and I rather doubt Governor Bradford and his Mayflower Pilgrims actually disembarked here.
But there wasn't any rioting here, like at Boston's Tea Party. Just writing: the Mayflower Compact, which brought these separatists from the Church of England together in a religious and political "covenant" enacted "for the glory of God, and advancement of the Christian faith."
In other words, right up your alley!
There is also a great bas-relief of the signing of the Mayflower Compact in Provincetown just under the Pilgrim Monument, but if you are running for president (and I know you haven't announced) that's probably not a very good campaign stop.
2.  Jonathan Edwards' Church
Another town you might want to visit is Northampton in western Massachusetts. Like Provincetown it's more gay-friendly than Palin-friendly, but since you aren't campaigning (right?) perhaps that can be overlooked.
The draw here is First Churches of Northampton. Today this congregation, formed through a merger of First Church of Christ (Congregational) and First Baptist Church (American Baptist) bills itself as "open and affirming" and "environmentally covenanted."
But BPC (before political correctness) it was the church of the revivalist Jonathan Edwards and Ground Zero for the First Great Awakening of the 1730s and 1740s.
This awakening gave us evangelicalism, which gave us Pentecostalism, which gave us your Assemblies of God denomination. So though it's outside the Bible Belt you should feel right at home! Don't stay for the sermon, however. They gave up the fire-and-brimstone centuries ago.
3. Walden Pond
During the Second Great Awakening of the early nineteenth century, as America was turning on to Jesus, Transcendentalists such as Ralph Waldo Emerson and Henry David Thoreau were looking to find God not in church but in nature. "Nature is full of genius, full of the divinity; so that not a snowflake escapes its fashioning hand," Thoreau wrote.
Thoreau, of course, did that experiment of his at Walden Pond. "I went to the woods because I wished to live deliberately, to front only the essential facts of life, and see if I could not learn what it had to teach, and not, when I came to die, discover that I had not lived."
More than 140 characters, I know, but pretty good as aphorisms go.
Anyway, it seems to me that Thoreau's ways of living and dying are worth pondering, and after you've done that you have to admit that there are a lot of "spiritual but not religious" voters out there (not that that matters, of course).
Anyway, it's worth a try! Though you won't find any moose to shoot in Concord.
4. Hill Cumorah
I'd like to send you to the Peace Pagoda in Leverett, Massachusetts, for a little slice of Buddhism or to New England's first Hindu temple in Ashland, Massachusetts, but whistle stops like that would be like red meat (or tofu) for the "lamestream media."
So here's a more practical suggestion: one of Mormonism's most sacred places, Hill Cumorah in Palmyra, New York.
This is where the golden plates that God (supposedly) revealed to Joseph Smith, Jr. through the angel Moroni were buried, and after Smith dug them up and "translated" them they became the Book of Mormon (the book, not the musical).
The best time to visit is early July when they are putting on the Hill Cumorah Pageant, Mormon America's analog to the popular Passion Plays of Europe. But even now it's worth a visit.
I know you're not running for president (at least not yet!) but let's pretend for a moment you were. Wouldn't it make sense to know something about Mormonism, given that two of your Republican challengers—Mitt Romney and John Huntsman—are members of the Church of Jesus Christ of Latter-day Saints? (Just a thought.)
So that's where I think you should go. Safe travels, and (as presidents say), "God Bless America!"
The opinions expressed in this commentary are solely those of Stephen Prothero.