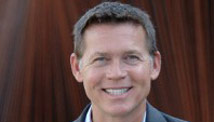 Editor's Note: Tom Krattenmaker is a writer specializing in religion in public life and a member of USA Today's board of contributors. He is the author of Onward Christian Athletes.
By Tom Krattenmaker, Special to CNN
Now that Jim Tressel is out as the coach of the mighty Ohio State University football team, resigning under the weight of rampant NCAA violations by his players and program, it's tempting to bring the customary snark and cynicism.
Here, after all, is a coach who came on strong with the Christian faith-and-character message, a man honored by the prominent Christian ministry group Athletes in Action just one year ago with induction into AIA's "Hall of Faith"—an honor meant to recognize recipients' faith, leadership, character, and integrity.
Tressel kept a prayer-request box on his desk, preached the importance of a moral and spiritual foundation to his players and staff, and presented an image of himself that prompted admirers to call him "senatorial" or, to quote the title of the 2009 book about him, "More Than a Coach."
Now a close-up photo of Tressel's face is plastered on the cover of the magazine whose investigation led to his downfall. "Like a disgraced politician who preaches probity but is caught in lies," Sports Illustrated's George Dohrmann writes in his article, "the Senator was not the person he purported to be."
Yes, the hypocrisy card is an easy play now for those who are skeptical about lavishly paid athletic champions being held up as poster men for faith and values, and about the Christian religiosity that has become such a conspicuous part of big-time spectator sports.
But while the media and internet churn out the predictable responses, it's important to consider the larger problems that Tressel's fall illuminates. That includes the use of celebrity sports figures and the sports platform to model and promote the Christian faith.
"The platform" — that's the phrase you'll hear over and over from Christian players and ministry representatives when they talk about the use of mass-audience spectator sports to evangelize the sports-obsessed public. Its starkest articulation might have come from former Houston Astros third baseman Morgan Ensberg, who said in 2005 that "The entire reason I play baseball is so that I get a chance to speak about Christ."
Ballplayers don't necessarily reach this conclusion on their own. There's often a faith coach of sorts behind ballplayers' testimonials — a team chaplain or ministry representative encouraging athletes to become Christians and leverage their visibility to invite everyone to join them on the road to Jesus.
A communications staffer for one ministry described the concept for me this way: If a regular Joe walked into a restaurant, cleared his throat, and launched into a faith testimonial, few would listen, and most would be annoyed. But if a highly recognizable baseball star did the same, "People will listen, just because he's able to hit a fastball 400 feet. That's the concept of influence."
Implicit in this—and often stated outright—is the highly questionable proposition that Christianity and sports are well matched, that they go together like "peanut butter and jelly," as ex-NFL star Deion Sanders once put it. But is the stage of big-time spectator sports really a good venue for the expression and promotion of Christianity?
Tressel is just the latest case study in why I believe the answer is often "no."
Not that all celebrated Christian coaches and players end up in disgrace. Many are able to "walk the talk" and steer clear of significant trouble for an entire career. (Think Super Bowl-winning coach Tony Dungy, or former Cardinals and Rams quarterback Kurt Warner, or St. Louis Cardinals slugger Albert Pujols.)
But the disgraced Buckeye coach Tressel is just the latest in a long line of widely praised athletic heroes of faith whose well-publicized lapses embarrassed themselves, their teams or universities, and the ministry organizations that hitched their wagons to them.
There's Steelers quarterback Ben Roethlisberger, known to write "Playing for Jesus" on his equipment, who last year incurred a suspension and massive bad publicity after a pair of sexual assault accusations.
There are the cases of professed Christian baseball stars Barry Bonds and Andy Pettitte caught using banned performance enhancing drugs (and, in Bonds' case, a whole lot more.)
And who could forget Eugene Robinson, defensive back for the Falcons, getting arrested for soliciting an undercover police officer for oral sex in 1999, just hours after receiving an award from Athletes in Action and a day before he was supposed to play in the Super Bowl?
Thankfully, signs of change are emerging at faith-in-sports organizations like Athletes in Action, an Ohio-based international sports ministry that, among other efforts, provides chaplains for many pro football teams and university athletics programs.
The new currents are tugging sports ministry toward a model where it's not about exploiting sports as part of a marketing strategy, but about serving them as a prophetic force for their moral betterment.
The ability to draw a huge audience does not make a given cultural venue an appropriate platform for promoting Christian faith — not if that venue promotes win-at-all-costs behavior and values that are in such deep tension with the central message of the religious "product" being sold.
Corroded and decayed by revelations of cheating and lying, college and professional sports are platforms that faith promoters should not be looking to exploit, but one they should be trying to repair, redeem. Otherwise, the next Jim Tressel-style embarrassment, and the next, and the next, are always just a headline away.
The opinions expressed in this commentary are solely those of Tom Krattenmaker.