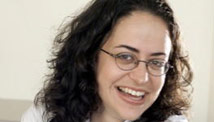 Editor's Note: Katia Hetter is a freelance writer whose work has appeared in The New York Times and Entertainment Weekly.
By Katia Hetter, Special to CNN
"Hey, we didn't sing the blessing!"
After all these months, my 3-year-old daughter's words still startle me.
Since my family's move from New York to Atlanta, Georgia, last year, almost everything in our lives has changed. That includes the instruction of a blessing before eating. We do it to take a pause from the business of our schedules and to remember all that is good in our lives.
I like our new tradition, but it still surprises me. I rarely heard a blessing spoken before a meal during my childhood.