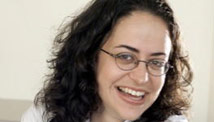 Editor's Note: Katia Hetter is a freelance writer whose work has appeared in The New York Times and Entertainment Weekly.
By Katia Hetter, Special to CNN
"Hey, we didn't sing the blessing!"
After all these months, my 3-year-old daughter's words still startle me.
Since my family's move from New York to Atlanta, Georgia, last year, almost everything in our lives has changed. That includes the instruction of a blessing before eating. We do it to take a pause from the business of our schedules and to remember all that is good in our lives.
I like our new tradition, but it still surprises me. I rarely heard a blessing spoken before a meal during my childhood.
For one thing, we'd always had a mix of religions around my family's table. My mom is Jewish and my dad was Lutheran. One person's blessing could exclude another person from the moment, even if neither parent was particularly religious.
I also had family and friends who were religious and those who were not. Who wanted to jeopardize congeniality at the table by invoking one version of God, knowing it wasn't another person's higher power?
As an adult, I continued to uphold my family's tradition of eschewing spoken prayers at meals. I didn't want someone else's idea of God on my plate in my own house.
Yet I had an inkling that was missing, as I harbored a secret sense of gratitude that powers beyond me had brought bounty to my table.
That feeling had crystallized in Thanksgiving in 1999, when I sat as a young adult at my friends' table at their Manhattan apartment. My hosts, Jennifer and Jason, shared their prayer and guests were coaxed into sharing gratitude lists. It was a lovely moment, with people stopping to think about what we had instead of what we wanted.
Later, when I started attending fancy foodie dinner parties with my spouse, where the work involved in preparing the food was enormous, the chef often got applause. But rarely was there any thanks for the people who tended the crops and animals or for the earth that nourished it all.
Around that same time, prayer began to enter my life on an occasion because of my father-in-law, who always says a Christian prayer of thanks at the dinner table. I saw the way it quieted the family and brought everyone together.
Last fall, my child's pre-school teacher introduced a blessing in her classroom, which is housed in an Atlanta, Georgia church but isn't religious (except about being green, recycling and composting).
"The blessing came from my wanting the children to appreciate their food and coming together," my daughter's teacher told me.
Every child in the classroom knows not to take a bite of snack or lunch before holding hands and blessing the food. Although there isn't any mention of any particular God, a sacred feeling seems to come over the wiggly bunch of 2- and 3-year-olds as they recite it from heart:
Blessings on the blossoms,
Blessing on the fruits,
Blessings on the leaves and stems,
Blessings on the roots,
Loving hands together as we say,
Blessings on our meal,
And our time together.
Does the mention of God matter? If it does to you, yes. What matters to me is that my toddler seemed to benefit from the experience of a blessing, of acknowledging something greater than herself, and we followed her lead.
We haven't deconstructed it or edited it to include concepts she doesn't yet understand. We added "and we're grateful for our family" because she added it.
When my daughter asked that we say this blessing at the dinner table, I simply said yes and wrote it out on a blue sticky note for us to recite. I knew right away that it filled my need for some gratitude shared with family and thanks for everyone who worked to put that food on our table.
When we hold hands and say it or some version of it, we are transformed. We are consciously a family in that moment, grateful and present for each other and our food, regardless of the day's events. It is a sacred moment for me.
And although I'm still the grumpy person I've always been, I'm happier because of my daughter's introduction of a mealtime blessing. I am more likely to stop when I'm upset and remember my blessings because I have practice speaking them out loud.
The opinions expressed in this commentary are solely those of Katia Hetter.