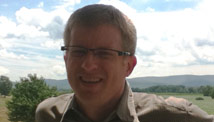 Editor's Note: Mark Schloneger is pastor of Springdale Mennonite Church in Waynesboro, Virginia.
By Mark Schloneger, Special to CNN
I choose to belong to a strange tribe. Goshen College, my alma mater, made national news this month when its board of directors decided that the "Star Spangled Banner" would not be played before athletic events.
As could be expected, the decision was met with confusion and contempt. Wasn't this just another example of our traditional values being trampled by the unrelenting march of political correctness? What sort of ingrates object to our nation's anthem, anyway? Fluffy-headed campus philosophers? Lazy latte-sipping liberals?
The decision not to play the national anthem reversed last year's decision to play it for the first time in Goshen College's 116-year history. That, too, caught the media's attention.
It also caused widespread concern and confusion among the college's students, professors, alumni, supporters and, yes, donors - many of whom felt like playing the anthem compromised the college's Christian values.
Goshen is a small school in northern Indiana that's owned and operated as a ministry of Mennonite Church USA. I am a Goshen graduate, a longtime member of the Mennonite Church and the pastor of a Mennonite congregation.
Mennonites live in countries all over the world. Though we speak many languages, have different ethnic origins, and express our faith in diverse ways, we all claim the Anabaptists in 16th century Europe as our spiritual ancestors.
The Anabaptists agreed with most of the ideas of the Protestant Reformation but felt that reformers like Martin Luther and John Calvin didn't go far enough. Anabaptists rejected the practice of infant baptism, for instance, believing that water baptism should be reserved for believers who confess a faith in Jesus.
Because they understood the exercise of state power to be inconsistent with the church's identity and mission, Anabaptists also advocated for the strict separation of church and state. This then-radical stance was prompted by both theology and necessity: Anabaptists had the distinct notoriety of being tortured and killed by both Catholics and Protestants wielding the power of the state against them.
Instead of compromising their core convictions about what it means to follow Jesus, thousands of Anabaptist men and women adhered to their freedom of conscience even as they were mocked by neighbors, burned at stakes and drowned in rivers.
Although there certainly are diverse viewpoints among individual Mennonites today, we continue to advocate for the strict separation of church and state. Most Mennonite churches do not have flags inside them, and many Mennonites are uncomfortable with the ritual embedded in the singing of the national anthem.
That's because we recognize only one Christian nation, the church, the holy nation that is bound together by a living faith in Jesus rather than by man-made, blood-soaked borders.
To Mennonites, a living faith in Jesus means faithfully living the way of Jesus. Jesus called his disciples to love their enemies and he loved his enemies all the way to the cross and beyond. Following Jesus and the martyrs before us, we testify with our lives that freedom is not a right that is granted or defended with rockets' red glare and bombs bursting in air. True freedom is given by God, and it is indeed not free. It comes with a cost, and it looks like a cross.
It's a strange tribe to which I belong, and sometimes it's hard to be strange. We struggle to be inclusive in our welcome yet passionate in our identity. Our desire for acceptance, for approval, is strong, and we don't always live up to the convictions that we set before us.
We must repent of that, for the world cannot know of its brokenness and hopelessness without a people who show a holistic way of life. The world cannot know that there is an alternative to violence and war without a people of peace making peace. The world cannot know that the weak and the vulnerable are cared for by God without a people practicing an economy centered on sharing and mutual aid.
The world cannot know the unsurpassable worth of human life without a people who consistently work to protect it - in the fetus, in the convict, in the immigrant, in the soldier, and in the enemy.
These convictions do not reflect ingratitude or hatred for our country. Rather, they reflect a deep love for the church and a passionate desire for the church to be the church.
Mennonite beliefs and practices seem bizarre to some and offensive to others. But it's life in this strange tribe that keeps me faithful to what I believe. I love my country, but I sing my loyalty and pledge my allegiance to Jesus alone.
The opinions expressed in this commentary are solely those of Mark Schloneger.