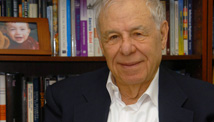 Editor's note: Amitai Etzioni is a sociologist and professor of international relations at George Washington University and the author of several books, including "Security First" and "New Common Ground." He was a senior adviser to the Carter administration and has taught at Columbia and Harvard universities and the University of California, Berkeley.
By Amitai Etzioni, Special to CNN
(CNN) - Yale University announced this month that it would close an institute dedicated to the study of anti-Semitism, the Yale Initiative for the Interdisciplinary Study of Antisemitism. In the wake of controversy over that decision, Yale has now announced that it will open a new center dedicated to the same subject.
Between the closing and opening lies a telling tale about research in a politically charged world.
Read more about Prof. Etzioni's thoughts on Yale's anti-semitism center