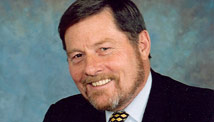 Editor's note: Ronald W. Nikkel has been President of Prison Fellowship International, which cares for offenders and other people affected by crime, for 29 years. PFI is holding its World Convocation this week in Toronto.
By Ronald W. Nikkel, Special to CNN
Over the past 35 years, I've visited more than 1,000 prisons on every continent except Antarctica. The more time I spend in them, listening to stories of inmates and seeing the terrible impact of incarceration, the more I believe prison is the most irrational of human institutions.
It makes no sense to confine offenders in a population of other offenders and to expect a good outcome – namely, that prisoners become non-offenders by the end of their confinement.
Yet prisoners can change.
To a point, any relationship in which prisoners are loved and know they are loved can have a positive impact. But prisoners are truly transformed not because of punishment or prison but through the love and grace of Jesus expressed through the friendship and care of chaplains and volunteers. Prisoners awaken to the realization that God's love is unconditional and that they can be forgiven.
Imprisonment, meanwhile, serves more to undo justice than it serves the cause of justice. Nearly everywhere I go as president of Prison Fellowship International, prisons are overused, overcrowded and highly overrated by politicians.
This came into sharp focus in May when the U.S. Supreme Court ruled that California must drastically reduce its prison population because of severe overcrowding, calling conditions "incompatible with the concept of human dignity."
Jeanne Woodford, a former state prison director and warden at San Quentin, testified in the case that such conditions "make people worse" and later told the Los Angeles Times that California incarcerates "many more prisoners than is necessary for the safety of the public."
Indeed, the excessive use of imprisonment does far more damage to society than good.
Consider the consequences in post-prison unemployment, repeat offenses and broken families. Global statistics are hard to come by, but The New York Times reported this year that two-thirds of the prisoners in the United States are arrested again within three years of their release and that unemployment rates among ex-prisoners hover in the 50-percent range within nine months or a year of release.
Children of incarcerated parents have higher rates of delinquency, mental illness and drug abuse, and lower levels of success in school and, later on, of employment.
Plus, communicable diseases like HIV/AIDS and tuberculosis find a breeding ground in the prisons of many countries and spread into the community.
I am not suggesting the abolition of prisons. But most non-violent, non-habitual offenders would benefit far more from punishment befitting their offenses, including restitution, drug or alcohol treatment or fines.
About 40 years ago, Philip Slater wrote a critique of American culture called "The Pursuit of Loneliness," in which he described what he called the "Toilet Assumption." It's the belief that social unpleasantness like criminality, once flushed out of sight, no longer exists.
Walls not only keep prisoners confined; they conveniently remove them from sight. The community believes it is safe.
But sometimes the toilet backs up.
Prison overcrowding such as has occurred in California forces society to face the unpleasantness. And although this process sometimes leads to token reforms, public attention is quickly distracted by other news.
But almost all offenders eventually leave prison. And then our unwillingness to deal with the causes of crime comes home to roost.
Prison conditions contribute to offenders' ability and inclination to make good decisions when they are released. Repeat offender rates are high anyway, but overcrowding can drive them even higher, partly because prisons are less likely to offer rehabilitation programs that ease prisoners' re-entry into society.
But the real challenge is not overcrowding; it's the Toilet Assumption, which makes it possible for otherwise humane societies to allow those conditions to develop. When something is out of public sight and mind, otherwise compassionate people simply do not care.
Perhaps this is why Jesus said the nations of the world will one day be judged by how they responded to those society wants to flush away: the hungry, the naked, the sick, the prisoners. In fact, God effectively says, "When you flushed them away, you flushed me as well."
As reformer Vivien Stern points out, prisons are a mirror of society. How we treat our offenders is not just a problem of the criminal justice system; it is a problem of the community.
All too often, politicians don't deal with the failure of prisons because the public thinks prisons work. We Christians have a responsibility as followers of Jesus to tell the truth - to counter the Toilet Assumption.
The opinions expressed in this commentary are solely those of Ronald W. Nikkel