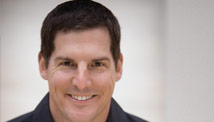 Editor's Note: Craig Groeschel is the founder and senior pastor of LifeChurch.tv. He, his wife, Amy, and their six children live in Edmond, Okla., where LifeChurch.tv began in 1996. A bestselling author, his latest new book is called "WEIRD: Because Normal Isn't Working."
By Craig Groeschel, Special to CNN
Like millions of people, I Twitter, Facebook and blog. Though I hesitate to admit it, I even take my iPhone into the bathroom with me — just in case I need to do a little extra business (pun intended). Since we live in a tech-savvy world, our church, LifeChurch.tv, loves to leverage technology to spread the message of faith in Christ.
Our church was honored to create The Bible App, a free tool to help people engage with God's word. The Bible App has been installed on more than 19 million unique devices (and counting). And last year alone, our Church Online services drew nearly 3 million unique visits.