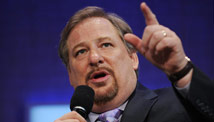 Editor's Note: Rick Warren is the founder and pastor at Saddleback Church and the author of The Purpose Driven Life.
By Rick Warren, Special to CNN
On June 5, 1981, my wife Kay was late into her second pregnancy, just weeks away from giving birth. Absorbed in caring for our 2-year-old and preparing for a newborn, the farthest thing on our minds was news that day of a cluster of men in Los Angeles with a mysterious, devastating disease.
But what began in Africa and was first observed in this small California group became an epidemic, then swelled to a pandemic - touching lives in every country on every continent
Though late to the fight, in 2003 Kay and I heard God calling us to care for those infected and affected, to raise our voices on their behalf, and to figure out practical ways for local churches to serve them.
Timeline: 30 years of AIDS moments
We traveled to Africa, ground zero for this pandemic, and were brokenhearted by the pain and thrilled by the compassion we observed.
Out of the bubble that is American life, we sat with dying men and women, held newly orphaned babies in our arms, and cried with shattered family members.