Atlantis' journey to Alpha, the international space station, will be NASA's 135th and final mission in the space shuttle program, which began 30 years ago. Tune in to CNN's live coverage of the launch Friday, starting at 10 a.m. ET on CNN, CNN.com/Live and the CNN mobile apps. Then check out "CNN Presents: Beyond Atlantis" Friday at 10 p.m. ET.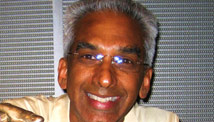 Editor's Note: Madhu Thangavelu conducts the Space Exploration Architecture Concept Synthesis Studio at the University of Southern California.
By Madhu Thangavelu, Special to CNN
Religion and scientific pursuits parted company centuries ago, at least in the eyes of the public.
Everyone knows the story of Galileo, who stood by his empirical evidence of the Copernican, sun-centered view of our solar system even under the threat of death by the church's preferred method for punishing heresy: burning at the stake.
The church confined Galileo to house arrest for the rest of his life.
America's Space program, then and now
And yet for millennia, religion was the primary purveyor of science, especially astronomy. That's evident in the symbols and images projected in cathedrals and mosques and temples all over the world. For a long time, the heavens belonged to God and religion, and scientists from Newton to Einstein have framed scientific inquiry as a divine investigation.