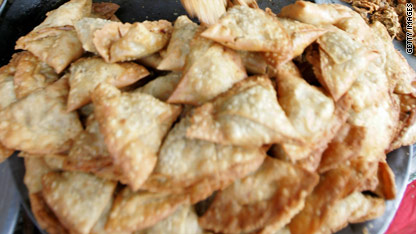 By Moni Basu and Chelsea Bailey, CNN
(CNN) - A small tray of vegetable samosas costs $35 at the Mughal Express restaurant. But one particular tray, sold to strict Hindu vegetarians, might end up costing the Edison, New Jersey, restaurant a whole lot more.
The Hindu customers said the restaurant served them meat samosas, harming them emotionally and spirituality. A state appellate court ruled Wednesday that they can sue for the cost of travel to India to purify their souls.
Two summers ago, Durgesh Gupta and Sharad Agrawal walked into the popular Mughal Express on Oak Tree Road, in the heart of Edison's Indian community, and ordered samosas. They were strict vegetarians, they said in making sure there was no meat in their order of the traditional Indian snack.
Gupta said a restaurant employee assured them that it did not make meat samosas, according to court documents. A half-hour later, the two men picked up a tray labeled "VEG samosas."
But after Gupta and his group of 16 people began eating the triangular deep-fried pastries, they grew concerned they were eating meat. When they went to return the uneaten samosas, the restaurant said it had made a mistake, court documents showed.
Yes, the vegetarians had consumed meat and believed they were complicit in inflicting death and injury to God's creatures.
They sued Mughal Express but a lower court deemed they did not have a case - until this week, when the appellate court reversed that decision.
What the 16 Hindus want is compensation for a trip to the Hindu holy town of Haridwar, India, where the Ganges begins its downward flow to the ocean. There, they want to take dips in the river and, by Hindu belief, cleanse their souls of sin.
And they want the restaurant to pay for it all.
K. Raja Bhattacharya, the lawyer for the vegetarian diners, and David Novack, an attorney representing the restaurant, both declined comment because the case is ongoing.
In 2002, McDonald's Corp. paid $10 million to Hindu, vegetarian and other groups in order to settle a lawsuit against the company for failing to disclose that beef flavoring was used in French fries.
The company began advertising the fries were vegetarian after they switched to vegetable oil to reduce cholesterol, but the fries contained small amounts of beef flavoring added at the processing plant.
But the McDonald's case may have been more compelling because it was not just an isolated incident of accidental service of meat, said Suhag Shukla, legal council for the Hindu American Foundation.
The Mughal Express customers who sued thought it otherwise. An Indian restaurant should have been more sensitive to this issue, they argued.
Still, some Hindus felt the diners were taking things too far. They doubted whether there was any karmic debt associated with the consumption of meat.
Pradip Kothari, president of the Indo-American Cultural Society in Edison, suggested the diners could easily go to a temple to cleanse their souls.
Indian-Americans have much to be grateful for in America, he said, and the lawsuit takes advantage of a U.S. judicial system that has afforded them individual protections.
"I understand how they feel," Kothari said. "I myself am a Hindu. But this is hypocrisy of the law."
And of religion, he said. "If you are a true religious person, God teaches you to forgive."
He did not know the diners, he said, but they should be ashamed for bringing a bad name not just to Hindus but to the
Indian-American community.
As for Mughal Express, there were no non-vegetarian samosas on the online menu Thursday.