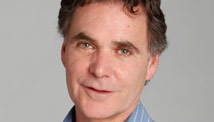 Editor's Note: Edward Grinnan is editor-in-chief of Guideposts magazine and author of "The Promise of Hope: How True Stories of Hope and Inspiration Saved My Life and How They Can Transform Yours."
By Edward Grinnan, Special to CNN
One spring day 25 years ago, I found myself perched on the 21st floor windowsill of a Denmark hotel room, holding what I thought would be my last alcoholic drink. I planned to give it up in a big way.
For all these years, I never told that story publicly, despite being the editor-in-chief of Guideposts, an interfaith magazine in which ordinary people tell their own stories of hope. My job is to persuade and help people tell those stories.
I've long known that such stories are our best medium for forging connections with our fellow human beings. They help span the breach of solipsism to unify the human experience.