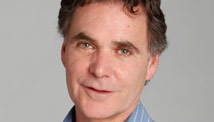 Editor's Note: Edward Grinnan is editor-in-chief of Guideposts magazine and author of "The Promise of Hope: How True Stories of Hope and Inspiration Saved My Life and How They Can Transform Yours."
By Edward Grinnan, Special to CNN
One spring day 25 years ago, I found myself perched on the 21st floor windowsill of a Denmark hotel room, holding what I thought would be my last alcoholic drink. I planned to give it up in a big way.
For all these years, I never told that story publicly, despite being the editor-in-chief of Guideposts, an interfaith magazine in which ordinary people tell their own stories of hope. My job is to persuade and help people tell those stories.
I've long known that such stories are our best medium for forging connections with our fellow human beings. They help span the breach of solipsism to unify the human experience.
We've been telling our stories since we could carve on cave walls, and probably longer. Stories are the roadmaps of our lives, and we're hard-wired for telling them.
Two generations before the internet and social networking, the minister and grandfather of the self-help movement, Norman Vincent Peale, founded Guideposts as a place for what would eventually come to be known as user-generated content.
Its origins were humble; the first issue of Guideposts was a 16-page booklet that featured World War I hero Eddie Rickenbacker on the cover.
Peale saw that by sharing our stories, we not only change ourselves, we change others. The act of telling our stories is transformative.
When I crawled into the Guideposts office in midtown Manhattan 23 years ago looking for a job, any job, I had no idea how being exposed to the power and beauty of true personal stories would change my life.
I was virtually homeless at the time and still recovering from the alcoholic seizures I'd suffered just a few weeks before.
I have no idea why I was even given a job, albeit an editorially menial one. I certainly wouldn't have hired me.
Several years removed from getting a master's degree in playwriting from Yale, I had been in and out of detoxes and rehabs, ERs, sobering-up stations and flophouses. I'd occasionally lived on the streets, smoked butts I'd found in the gutters and begged for change in the Hoboken, New Jersey, train station and in the shadows of the twin towers.
I'd hit bottom and now I was trying – again – to claw my way back. Little did I know that the path was right before me, aptly named Guideposts. Still, at the start I never intended to spend more than a year working for this odd little magazine.
Eventually, that changed. And so did I.
Yet two years ago, when I decided to write a book about a career spent helping people tell their stories, I had absolutely no intention of sharing my own. I'd never told it to my readers, or even my employers.
Yes, shame was a factor. Who wants to admit he'd sunk so low as to beg for change and sleep on benches? But it was also the nihilism of my 20s that I wanted to keep buried, that part of my life that felt more like an archeological dig than a personal story. Who was that person?
And I knew enough to understand that writing autobiographically can be like performing surgery on yourself without anesthesia.
No, I wanted my book to explain the basic steps for making personal changes that I'd picked up from the people who told their stories in Guideposts. People like Bill Irwin, who thru-hiked the 2,000-mile Appalachian Trail blind with only the assistance of his service dog, Orient.
Or the professional ballplayer who had to reconcile his shock at being traded like some commodity from the only major league team he had ever played for.
Or the woman who learned to forgive her cruel, abusive father when she was forced to care for him in her home as his life was drained by Alzheimer's.
These were people whose stories moved and inspired me and made me look at my own life with not just a sense of hope and, eventually, to look at it through a spiritual lens.
I wanted the book to be just about them. But before I signed my book contract, my wife intervened.
"You're going to tell you own story aren't you, Edward?" she asked as we reviewed the contract. Sensing my reluctance, she made her case.
"You get people to bare their souls and share their stories with millions of others," she said. "Your story will help people, too. Isn't it time for a bit of your own medicine?" She held the pen out. "Look, Edward, I married you because of your story."
So I made the difficult decision to include my own story in the book.
It wasn't easy. I felt a little like the Wizard of Oz must have when the curtain was torn away. Honesty can be painful. I have greater respect than ever for the people who find the courage to help others by telling their stories in Guideposts.
And my wife was right - my story has helped others.
But mostly it has gotten me to finally look at the narrative roadmap of my life. I discovered that it is in telling our own stories that we truly find ourselves.
And it was in writing my story that I finally recognized a deeper and more ineffable plan.
When I see my life as a story, with all the richness and depth of art, the beauty and serendipity and redemption, the synchronicity of forces beyond my knowing, I understand finally that I am not necessarily the author.
The opinions expressed in this commentary are solely those of Edward Grinnan.