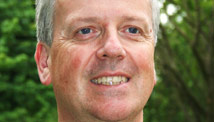 Editor's Note: Andrew Watson is the Bishop of Aston in the Diocese of Birmingham, UK. He was formerly a vicar in London, and is a musician, author and father of four.

By Andrew Watson, Special to CNN
Birmingham, England (CNN) - I spent most of yesterday in Winson Green, Birmingham, following the deaths of three young British men in the early hours of the morning. I visited the small mosque where two of the men (brothers aged 32 and 30) had been regular worshippers, and where both their uncle and older brother were in a state of profound shock and grief.
I then attended a gathering hastily convened by the local member of parliament - taking place in a room above a local supermarket – followed by a much larger public meeting with the police later in the day. About 150 people crammed into the community hall for the police meeting, with twice as many gathered outside.
Feelings were understandably running very high, with the grief and anger of the community expressed in equal measure. There were voices calling for retaliation, but these were increasingly drowned out by other voices (both old and younger) urging restraint.
Read the full story here.