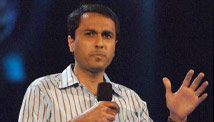 Editor's note: Eboo Patel is Founder and President of Interfaith Youth Core, a Chicago-based organization building interfaith cooperation, and author of Acts of Faith. Follow him on Twitter: @EbooPatel.
By Eboo Patel, Special to CNN
In the early years of Islam, when the Muslim community was small and frequently under attack, the Prophet Mohammed sent a delegation of recent converts from the city of Mecca to the kingdom of Abyssinia. The Abyssinian king was a Christian and when he asked the Muslims about the faith they followed, one of the Muslims recited the Quran:
She said, "How shall I have a son whom no mortal has touched, either have I been unchaste?"

He said: "'Even so my Lord has said; 'Easy is that for Me; and that We may appoint him a sign unto men and a mercy from Us, it is a thing decreed.'"
These lines are about Mary, mother of Jesus. They show how Muslims revere her and that they believe that Mary was a virgin when she bore Jesus, just as Christians do.