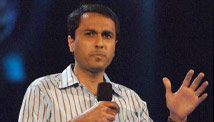 Editor's note: Eboo Patel is Founder and President of Interfaith Youth Core, a Chicago-based organization building interfaith cooperation, and author of Acts of Faith. Follow him on Twitter: @EbooPatel.
By Eboo Patel, Special to CNN
In the early years of Islam, when the Muslim community was small and frequently under attack, the Prophet Mohammed sent a delegation of recent converts from the city of Mecca to the kingdom of Abyssinia. The Abyssinian king was a Christian and when he asked the Muslims about the faith they followed, one of the Muslims recited the Quran:
She said, "How shall I have a son whom no mortal has touched, either have I been unchaste?"

He said: "'Even so my Lord has said; 'Easy is that for Me; and that We may appoint him a sign unto men and a mercy from Us, it is a thing decreed.'"
These lines are about Mary, mother of Jesus. They show how Muslims revere her and that they believe that Mary was a virgin when she bore Jesus, just as Christians do.
But some enemies of the Muslims emphasized to the Abyssinians that the Muslims had a different view of Jesus than Christians did. Sure, Muslims believed that Jesus was one of God's prophets, these enemies said, but they didn't believe he was God's only son or humankind's savior.
And yet the king of Abyssinia was so moved by the commonalities between his Christian faith and Islam that he ignored those who sought to sow division, allowing the Muslims to stay and practice their faith in his kingdom.
This story is a metaphor for the path that Muslims in America have taken since the tragic events of 9/11 ten years ago. In the face of those who would paint us as "foreign" or "other," we are emphasizing the values and beliefs that Islam holds in common with other American communities.
As the American Muslim community started to grow in the 1960s and 1970s, largely through immigration from the Middle East and South Asia and conversion by African-Americans, Muslims focused their energies on establishing families, building businesses and advancing their careers.
With respect to religion, there was a huge amount of work involved in opening mosques, finding spaces to hold Muslim weddings and funerals and creating educational outfits to teach our faith to our children. Like Jews and Catholics before us, Muslims also showed concern for family and the faithful back in the countries of their birth.
But by the 1990s, Muslims began looking outside our own community, launching projects to strengthen ties between us and the rest of the country.
The idea behind these new organizations was simple: Muslims were now calling America "home" and Islam called us to cooperate with and serve neighbors of all backgrounds.
In Chicago, the INNER-City Muslim Action Network was formed to run community development programs, ranging from anti-violence interventions to feeding the hungry.
In the San Francisco Bay area, Muslims launched a group called ING to send Muslim speakers into schools and to community groups to emphasize shared values. In Washington, the Muslim Public Service Network got going to provide fellowships for young Muslim interning in the nation's capital.
As opposed to focusing solely on the Muslim immigrant community, this new generation of groups worked closely with African-American Muslims. And the groups' model of reorienting the Muslim community toward the United States attracted support from Muslim leaders.
"Home is not where your grandfather was born," says one of those leaders, Muslim Public Affairs Council founder Maher Hathout, "but where your grandchildren will be buried."
After the 9/11 attacks, Muslims grieved for fellow Americans who perished in the attacks, whose ranks included Muslims. We were shocked when some of our fellow citizens threatened mosques and pointed their fingers at Islam, treating us as if we were in league with the terrorists, rather than as fellow victims and mourners.
Those accusations made us realize that too many of our neighbors knew too little about us and our religion. In turned out that the event most Americans associated with Islam was 9/11. The Muslim figure they were most likely to recognize was Osama bin Laden.
This problem was exacerbated by a small network of activists and intellectuals intent on spreading ugly misinformation about Islam, presenting our religion as inherently violent, its adherents as dangerous fanatics.
For all the pride we Muslims took in having established our mosques and families and businesses in the United States over the past generation, we had the same realization that largely immigrant religious groups like Jews and Catholics had in earlier decades as they strove to deepen American roots: we had to invest more energy into bridge-building efforts with the rest of the country, to place more emphasis on commonalities.
Just as Jews and Catholics deepened American roots by launching an array of civil society organizations, from schools to universities to hospitals to social service groups that have benefited the broader American public, so would Muslims.
As a result, the American Muslim organizations launched in the years leading up to 9/11 have moved to the center of the American Muslim consciousness. Many of them grown dramatically since 9/11, expanding staffs, budgets and programs.
The change the groups have inspired has been remarkable.
A new generation of Muslims are becoming public policy experts, writers and social entrepreneurs, launching organizations that seek to build understanding and cooperation between Muslims and the rest of the country. These American Muslim leaders will be the architects of a network of civic organizations that will one day look like the networks that Catholics and Jews have established.
Muslims are not the first faith community to experience discrimination in America and we're not the first to respond by building bridges outside the community. It's precisely the path that Jews and Catholics walked before us, and it's a crucial part of the American story: a nation defined by its diversity and built by the contributions of its many communities.
The opinions expressed are solely those of Eboo Patel.