By Eric Marrapodi, CNN Belief Blog Co-Editor
(CNN) - Justin Bieber is one of the world's most famous pop stars but is also decidedly more Jesusy than his day job might lead some to believe.
When the young Canadian-born singer burst onto the scene, he was discovered in part by singing Christian songs on YouTube. But that is just the beginning of Bieber's faith journey, spelled out in a new book on the young star.
Cathleen Falsani sarcastically self-proclaims she is the "pre-eminent Justin Bieber scholar in North America."
Falsani has penned "Belieber! Fame, Faith, and the Heart of Justin Bieber," a book exploring the faith life of the tween sensation.
An award-winning religion journalist and a nationally syndicated columnist on the God beat, Falsani came to writing about Bieber almost accidentally.
"I was aware of who he was as a cultural figure. I was aware that he existed, that he was young, cute as a button and Canadian and that his music wasn't something that I generally listened to," she said.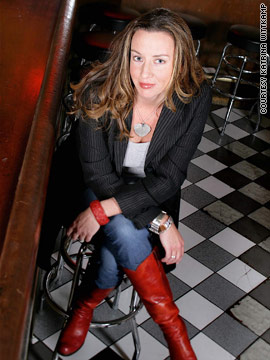 She stumbled across an interview Bieber did with Rolling Stone magazine in which he talked about God. "I was like, 'OK, this is interesting.  Let's see if this is any different than all of the other young 'Christian' pop stars or actors.' "
She was intrigued by the "tone and tenor" of what the young teen had to say about his faith, so she dug deeper. Her young adopted son Vasco was talking about Bieber at the time, and a friend told her she ought to write a book on "the gospel according to Justin Bieber."
What she found was a compelling story of a young man born to an 18-year-old single woman who lost and then found her faith and her way back to church.
Falsani details how Bieber's mother, Patricia Mallette, openly shared her struggles with drugs, alcohol and a suicide attempt before she gave birth to Justin.
Mallette's faith journey took her to Jubilee Christian Fellowship, a nondenominational church in Stratford, Ontario. The church mirrors many charismatic churches in the United States with an emphasis on prayer and spiritual gifts.
"I would call it a charismatic or a Pentecostal church. The iteration of that looks a little different in Canada than it does (in the United States). It looks like any number of our evangelical nondenominational churches, but with a lot more arms raised. Very, very prayerful," Falsani described.
Mallette joined the praise band, which led the music on Sundays. "Being young ... they used to hang out, and she would bring Justin. That's when they noticed this kid's got unbelievable rhythm. And he's 2," according to Falsani.
From there, Bieber lived the life of a normal Canadian church kid, focusing on school and sports.
Bieber kept his musical talents quiet from friends until he was 13 years old and entered a singing competition. He placed third.
His extended family was not able to come and see his performance, so he and his mom began to upload videos onto YouTube so the rest of the family could see him singing. Some of his tunes were Christian worship songs and others secular pop tunes.
The videos hit in a big way.
Falsani explained that Justin's mom thought, "If God had a plan for Justin to be to a music artist, then surely it would be in the Christian industry, and God would send them a nice Christian manager. Suddenly, this 25-year-old Jewish kid from Connecticut called."
In 2007, Scott "Scooter" Brown discovered Bieber.
His career took off.  The family moved to the United States, and Bieber began palling around with music icons.
The haircut, the honey-dripped voice and the screaming tweens are the stuff pop legends are made of. Today, Bieber is a multimillionaire and an industry all to his own, but Falsani details in the book how he and his mother have maintained their faith.
Sprinkled heavily through "Belieber!" are tweets from Bieber and his mom talking about faith, quoting scripture and sharing a simple Christian narrative that God loves people.
Bieber explained his approach to Rolling Stone in February: "I feel I have an obligation to plant little seeds with my fans. I'm not going to tell them, 'You need Jesus,' but I will say at the end of my show, 'God loves you.' "
He does not take complicated theological soapbox stands. In February, he drew a lot of attention for articulating his opposition to abortion in a Rolling Stone article, but he was quick to say it was his belief and he would not force it on anyone.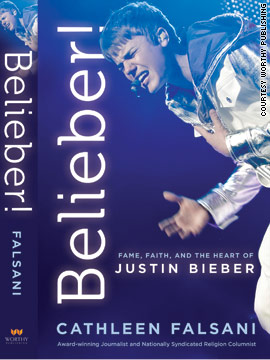 The book also uses quotes from social media sites to evidence the positive influence Bieber's faith has on his young fans. Falsani sprinkles in quotes from Bieber's core audience - tween and teenage girls - and plays to their hand with a glossy color photo spread featuring pictures of Bieber being Bieber.
Though she considers herself a fan in his shadow demographic (the moms at the concert who secretly dig and buy the music), as a mother herself, Falsani appreciates the positive role Bieber's faith has played in his young career.
"I do think this faith he has is very genuine and very much his and not his mom's or anyone else's. It's not a marketing tool," she said.
Bieber's work with charity is well-documented; he gives a portion of ticket sales to charity, among other approaches.  Falsani is taking a similar role with this book, too. Part of the proceeds from her book are going towards the United Nations-backed Global Fund to Fight AIDS, Tuberculosis and Malaria.