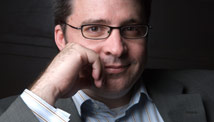 Editor's note: Robert P. Jones is the CEO of Public Religion Research Institute, a nonprofit, nonpartisan research and education organization specializing in work at the intersection of religion, values and public life.
By Robert P. Jones, Special to CNN
(CNN) - Despite Jon Huntsman's attempts to speak up during the first few Republican primary debates, the results from a recent straw poll of GOP activists in Florida spell bad news for his campaign: Like the beleaguered former front-runner Michele Bachmann, Huntsman received 2% of the vote.
One of Huntsman's brightest moments in the campaign so far is his brief Twitter sensation in August when he responded to Texas Gov. Rick Perry's scientific skepticism: "To be clear. I believe in evolution and trust scientists on global warming. Call me crazy."
Huntsman has also distinguished himself on another hot-button issue: legal recognition for gay and lesbian relationships. As governor of Utah, he supported civil unions and declared this summer that he would not use federal powers to block a law legalizing same-sex marriage in New York.
Huntsman also has publicly courted support from gay Republican groups and donors.
While his "call me crazy" approach may not be playing to the heart of GOP primary voters this year, Huntsman looks promising if he could hang in there until 2024.
That is, a look at the profile of Americans in the millennial generation (ages 18-29) almost certainly indicates that a dozen years from now, a campaign such as Huntsman's may be the norm among Republican candidates.
Specifically, millennials, including Republican ones, are much less likely to hold religious beliefs and positions on social issues that have been the bread and butter of the Christian right GOP base since its influential rise in the 1980s.
First take gay and lesbian issues. According to a recent survey from the Public Religion Research Institute called "Millennials, Religion, & Gay and Lesbian Issues," there is at least a 20-point generation gap between millennials (age 18 to 29) and senior citizens (age 65 and older) on every public policy measure in the survey concerning rights for gay and lesbian people, including adoption rights, employment protection, marriage and civil unions. For example, twice as many millennials as seniors favor allowing gay and lesbian people to marry (62% vs. 31%, respectively).
Moreover, this generation gap is evident even among political conservatives. According to two Public Religion Research Institute polls conducted during summer 2011, nearly half (45%) of Republican millennials favor allowing gay and lesbian people to marry, compared with 17%  among GOP senior citizens and 28% of all Republicans.
Huntsman is similarly positioned for the millennial wave in the near GOP future on issues of evolution and climate change. According to the latest Public Religion Research Institute/RNS Religion News Survey on evolution and climate change, 64% of millennials say that scientists generally agree that humans evolved over time, compared with 32% of seniors. Likewise, 42% of millennials believe that scientists agree the Earth is getting warmer because of human activity, compared with 30% of seniors.
And the millennial difference is not limited to policy attitudes. Millennials are also much less likely than senior citizens to hold religious beliefs that anchor these more conservative stances on same-sex marriage, evolution and climate change.
For example, holding a belief that the Bible is the literal word of God is one of the most powerful predictors of views on a wide range of political issues.
Only 26% of millennials believe that the Bible is the word of God and that it should be taken literally word for word, compared with nearly half (47%) of senior citizens. Again, this generation gap is nearly as large even among Republicans. Only 33% of Republican millennials believe the Bible is the literal word of God, compared with 51% of GOP senior citizens.
These numbers suggest that a dozen years from now, Republican operatives may be dusting off "the Huntsman strategy" as models for their campaigns.
Right now, millennials' overwhelming support for lesbian and gay issues and their embrace of scientific consensus on evolution and climate change may not mean much to GOP strategists since young adults typically turn out in much lower numbers than other demographic groups, especially in primaries. Senior citizens, on the other hand, are the most reliable voting bloc.
But as today's seniors retire from the voter rolls and millennials grow into more reliable voters and donors, Republican candidates will have a much more complicated job talking to a changing base - especially those who have relied primarily on strategies of rallying so-called "values voters" around controversial social issues.
Asking millennials, even politically conservative millennials, to "vote their values" will produce significant unintended consequences for GOP strategists. It may be little consolation to Huntsman now, but times are changing fast, and compared with his Republican opponents, he is ahead of what looks to be the inevitable curve on these issues.
A dozen years from now, it may be crazy for Republican candidates to run a campaign that doesn't look like Huntsman's.
The opinions expressed in this commentary are solely those of Robert P. Jones.