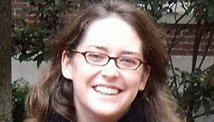 Editor's note: Marisa Egerstrom is a Ph.D. candidate studying American religious history at Harvard University. As a member of the Boston-based group Protest Chaplains, she has been involved in the Occupy Wall Street protests in New York and Boston. She is an Episcopalian.
By Marisa Egerstrom, Special to CNN
In the movement that's making campgrounds out of city squares across America, it might seem there's little religion happening. But Occupy Wall Street, and its local offshoots springing up everywhere from Boston to L.A., has described itself more clearly in the language of "soul" than in the language of federal financial regulation policy.
That's because, at its heart, the Occupy movement is about creating a democratic society in which everyone matters, there is dignity in working together across differences, and there is enough for everyone. Is this vision tantamount to socialism? No. Once upon a time, we called this "American."
It also sounds pretty Christian to me. What the early Apostles called "The Way" was a vision for peaceful living that built on Christ's teaching, life, death and resurrection. The Way repudiates the pursuit of individual wealth in favor of building communities that care for the marginalized, the desperate and the powerless. Jesus demonstrated this by healing lepers and dining with prostitutes and tax collectors.
This is not to say that American democracy is synonymous with Christianity, nor to argue that it should be. Understanding what's happening in these protests, though, requires that we quit impatiently insisting on a list of demands and listen for what the Occupy movement is saying. The US Day of Rage website, one organizational hub for the protests, says we're "fighting a war for the soul of our nation." Such language is unmistakably religious and reveals how deeply this popular discontent reaches.
The consistent message emerging from the protests against the concentration of wealth in the hands of 1% of Americans is this: We are the 99%, and we intend to chase the corrupt moneylenders out of a democracy created for the people. It's a vision of inclusivity and participatory government that confuses pundits and politicians alike, because this movement is more about being for a way of living than it is against anybody or any group. It's the thing Christianity talks about but often has a hard time doing. It's a new politics fighting to restore the vision of equality laid out in the Declaration of Independence and enshrined in the checks and balances so brilliantly constructed in our Constitution.
Critics have derided the protesters with the usual rehearsal of slurs: spoiled kids, lazy hippies and so on. But the occupiers don't want your money or your stuff. In this entitled era of "Have it Your Way" and overwhelming consumer choice, spend any time listening to people speaking about their grief and hope, and you hear a groan of longing for a different way of living. "I want less," a friend told me once. "Less of everything." She wasn't talking about wanting to be poor. She just wants real life.
Jesus teaches that in return for having less, we get more. More life, not more stuff. The little experiments in community arising in cities across the United States in the Occupy movement are revealing how much there is in "less." For many, "less" is not a choice. The Boston camp is full of people who have lost homes to foreclosure, whose unemployment applications have gone unprocessed for weeks and whose retirements have been absorbed by the banks.
Yet in the music, conversations, meetings and daily work that come with running a community, there is a profound sense of abundance. A delivery of dry blankets and towels is met with cheers. Trained medics volunteer their skills to treat injuries and illness. The food station is "loaves and fishes" in action: There is always more than enough to eat, and homeless folks eat side by side with lawyers and students off of donated plates. There is always meaningful work to be done. It's not charity. It's cooperation. It's The Way, and it's happening right now. The Occupation is the church your church wants to be.
I'm with a group called the Protest Chaplains, and we have spent time at the New York and Boston protests, tending to the spiritual needs of protesters. We've found no shortage of work to do. Over and over, I hear the chaplains saying they've never had such an opportunity to put their faith into action. Coming from a mix of mainline and evangelical backgrounds, we've set up an interfaith spirituality tent in Boston where protesters are constantly meditating, leading workshops and holding services in Jewish, Muslim, Christian, Buddhist and other traditions. Just as in The Way, it turns out that ideology and theology matter less than what we do. And it's bringing us all new life.
For Christians, the Occupy movement amounts to an invitation from people outside of the church to join them in prophetic witness to the failure of a hyperindividualistic consumerist society. Will Christians find the humility to accept the welcome and join? Or will we fail to recognize The Way in what's happening in this movement simply because it doesn't speak Christianese? Could it be that open-hearted participation in this growing experiment in abundant life is exactly what the church needs to recover its own sense of vitality and mission? As Jesus said, "Come and see."