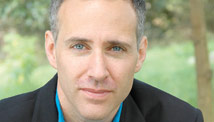 Editor's note: Missionary and conference speaker Jason Frenn is the author of "The Seven Prayers God Always Answers."

By Jason Frenn, Special to CNN
(CNN) - I was 8 when I first walked into the huge church in Woodland Hills, California. Cautiously moving down the center aisle with my mouth half-open, I gazed at the candles, elaborate statues and stained-glass images and silently asked: "Would God listen if I prayed?"
At the time, I didn't know much about spiritual things, and unfortunately, I didn't have anyone in my life who was in a position to enlighten me. Deep down inside, I wondered if God truly cared when I talked to him.
That basic question led me to a simple yet all-important discovery. It's not how important or pious we are, or even how perfect our beliefs may be. God listens to all of us when we pray. What matters most to him is the sincerity of our heart, and that is precisely what generates a response.
But as I Christian I wonder, "What about people from other religions and walks of life? Does God listen when they pray?"
At this time in our nation's history, we've become polarized over religious issues, but God hasn't.
He isn't confined by our opinions or theological positions. Instead, his ways transcend culture and theology. Even our lack of faith and moral shortcomings don't prevent him from listening to our prayers.
If they did, many great people in history, including King David, an adulterer, and Moses, a murderer, never would have attained an audience with the creator. Regardless of one's religion, culture or level of morality, God offers all of us something wonderful that might seem surprising to many.
If you're a Christian, Muslim, Hindu, Buddhist or even an atheist, you don't need the faith to move mountains or even be a saint to get God's ear.
Throughout the Bible, there is only one prerequisite to God listening to our petitions. If your heart is sincere when you pray, God will listen and offer an answer to your prayers. This is true for everyone, everywhere, every time.
In Matthew 7:7, Christ spoke to a small crowd and made this promise about prayer. "Ask and it will be given to you; seek and you will find; knock and the door will be opened to you." God listens to every genuine prayer directed to him. It may not be the answer you're looking for; nonetheless, you can count on a response to your petition.
A few months ago, I received an e-mail from a man in Africa. He mentioned that he was facing a difficult challenge in his personal life and needed to overcome some significant barriers.
He was scanning channels and came across a television program showing me speaking at a large church. He watched as I said, "God asks you the question, 'What do you want me to do for you?' " Suddenly, he paused. What he wrote next in his e-mail struck me. "I am not a Christian," he said. "I am a Muslim."
He said, "You encouraged me to pray. So I did, because I am presently going through a difficult challenge in my life that I desperately need to overcome. I realize that I am not alone and that I should pray and ask God Almighty for help. God is answering my prayers."
He ended his letter by stating, "Prayer and more prayer is what I'll be doing to overcome this barrier!"
I want to leave you with this final thought. If you find yourself dealing with family issues, financial challenges, personal health problems or any other area where you need help, there are prayers God always says yes to regardless of your background or personal faith. You will never know what incredible breakthrough awaits you until you start praying.
The opinions expressed in this commentary are solely those of Jason Frenn.