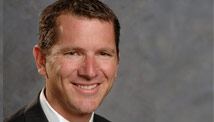 Editor's Note: Scott C. Todd, Ph.D. is the senior ministry advisor in the President's Office of Compassion International. Previously, he served as director of Compassion's AIDS Initiative, Child Survival Program and strategic interventions. He is the author of Fast Living: How the Church Will End Extreme Poverty.
By Dr. Scott Todd, Special to CNN
(CNN)–Here's a headline I haven't read or heard yet: We're winning the battle against extreme poverty.
I know that sounds unbelievable, but it's not. It's just that we're conditioned to believe the opposite is true.
Every "breaking news" item that hits my inbox or travels across the bottom of the TV screen carries the potential to be another gut punch to the world's poor. A hurricane in the Caribbean. An earthquake in Asia. A famine in Africa. Or a disease outbreak anywhere.
When we hear enough bad news, "crisis fatigue" kicks in. Often we go into protection mode to deaden the impact or filter the news out altogether. We turn the channel. Read something else. Or simply focus on our own lives. They're topical anesthetics to deaden the ache of chronically bad news.
But I believe there is a better story when it comes to extreme poverty and long-term solutions. People are often surprised to hear this, but I am rationally optimistic about the destruction of extreme poverty. There's no anesthetic needed because we're winning.
Consider that from 2000-2008, 78% fewer children died from measles.
Malaria infections have plummeted by 19 million cases per year between 2005 and 2009.
We used to say 40,000 children under 5 died every day from preventable causes. No more. In 2010, that number is 21,000.
We've dramatically slowed the spread of HIV infections.
And most of all, 26% of the world's population now exists in extreme poverty. That's a staggering number until you realize that it is half of what it was in 1981. We've cut the extreme global poverty rate in half in just 30 years.
Let me say that I don't believe in the magic power of positive thinking or soft, Pollyanna optimism. I don't subscribe to naïve idealistic platitudes. But I do believe that churches—thinking creatively and working strategically—have done and are yet to do amazingly redemptive things.
This is really the strength of my optimism. Governments have their role. Charitable organizations have theirs. But no entity has the reach, the placement and the backbone to meet the needs of the poor, as do the churches located in the world's poorest communities.
First, these churches don't need to arrive on a white horse from the outside. They are strategically planted in the poorest communities right now. Some are large, visible entities. Others are small gatherings on roads that lead into alleys. But they are there.
Second, their intimacy is deeply embedded in those very neighborhoods. I have walked dangerous streets I would never walk alone because I walked them with the pastor of the neighborhood church. They knew the residents. They knew the needs inside the homes. They don't know poverty on a philosophical level. They know it by name—the Ngari shanty in teeming Nairobi. The Hernandez apartment in dangerous San Salvador. Or the Raj home in Kolkata.
Third, this strategic placement, coupled with a practical passion to do good, make churches the most powerful delivery system in the world. Period. Much of the progress that has been made against the realities of extreme poverty is because of these strategic churches. They are the ones who sunk wells. Taught sanitation. Enabled health screenings. Instructed in nutrition. Distributed food. Taught planting. Encouraged education. Rescued children from abuse and trafficking. And facilitated micro-enterprise—just to name a few of their redemptive strategies.
There simply is no organization on the globe with the placement and the reach to deliver strategic aid and give hope like the hundreds of thousands of Christian churches around the world.
There is stubborn power in good news, inspiring motivation in progress, and hope in the rock-ribbed evidence of statistical facts. We don't need to look the other way when we face extreme poverty, or duck the darts of guilt. We can face the hard realities ahead knowing that we are well on our way.
I believe that abject poverty—poverty at its worst—is beatable in our lifetime. I know that is has been Christian churches who have paved the way. And I know they are poised to do even more.