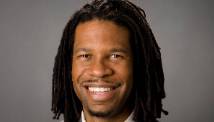 Editor's note: LZ Granderson, who writes a weekly column for CNN.com, was named Journalist of the Year by the National Lesbian and Gay Journalists Association and is a 2011 Online Journalism Award finalist for commentary. 
By LZ Granderson, CNN Contributor
Grand Rapids, Michigan (CNN) - Vote for me or burn in hell.
I can't imagine someone running for office saying that.
And yet four candidates - Michele Bachmann, Herman Cain, Rick Perry and Rick Santorum - have said they had a sense that God was leading them to run. How far can we be from "vote for me or burn in hell" when it seems we're already comfortable with "vote for me, I've been called by God"?
Read LZ Granderson's commentary