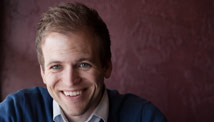 Editor's note: Johnnie Moore is an author, pastor, professor and a vice president of Liberty University. He sits on the board of World Help, and is the author of Honestly: Really Living What We Say We Believe. You can keep track of him on Facebook and Twitter.
By Johnnie Moore, Special to CNN
We're a congregation of thousands of college students. Why would we do church on Facebook? Because it's where we are already.
For us at Liberty University, this epiphany came when we were faced with the colossal challenge this week of being a homeless congregation.
Each Wednesday, thousands of us from Liberty and our local community gather in the 10,000-seat basketball arena on our campus, or in the sanctuary of Lynchburg's Thomas Road Baptist Church, but this week they're both unavailable.
So my team and I - all twenty-somethings - huddled together to find a solution.
Our fix? Let's do church on Facebook.
Let's make a sanctuary out of the social network that weaves its way in and out of our daily lives already. Let's invite our peers to stay in their dorms and apartments, gather with their friends around a computer, and celebrate with us as one congregation in hundreds of different places.
After all, since the Apostle Paul, Christians have made it their goal to go where the people are. In the 21st century, they're on Facebook. Over 800 million of them.
This is especially the case for college students and recent grads. We are the first "digitally native generation." We grew up with a bottle in our mouth and a keyboard in our lap.
Our little brothers and sisters barely even know what a keyboard is anymore (they just touch the screen).
We learned the alphabet through old-school computer programs, we've grown up thinking of Google as our own personal Library of Congress and we've met new friends around the world via the click of a mouse (though what's a mouse anymore?).
We have connected with people through the web for almost our entire lives.
And, boy, are we connected. We all have our friends and their friends and their friends. We're liking things and sharing things and loving on people and hating on people, we're protesting what we don't like and preaching about what we do, and generally living out a large part of our lives in the world Mark Zuckerberg created.
What is Facebook, after all? It's a community. What is church, after all? It's a community. For us, doing church on Facebook isn't innovative. It's intuitive.
Church and Facebook are places where we share in life together, learn about one another, encourage each other, laugh together and live our lives in some kind of ramshackle harmony with one another.
Facebook can be a place where we encounter God and others. It can be a place where we teach and provide counsel, facilitate conversations, share experiences, and worship.
Like Paul told the Corinthians, we can do it all for the glory of God.
And doing church on Facebook can also make doing church feel new again. The multigenerational and multiethnic church can be gathered together in one place.
We can do church in your living room lived out with those you're closest to, and when life moves us in different directions, Facebook makes it harder for us to be pulled a part.
Of course, this is an experiment, as once was the light bulb and the airplane, the internet and the iPhone.
We're inviting Liberty's 70,000 residential and online students to log onto Liberty's Facebook page, watch live with a close group of friends, worship with us, engage in the conversation, and then enjoy some time discussing it together.
We don't have a church this week, so why not?
The opinions expressed in this commentary are solely those of Johnnie Moore.