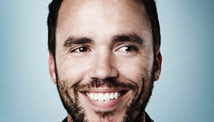 Editor's note: Jeremy Cowart is a Los Angeles-based celebrity portrait photographer and founder of Help-Portrait, a global movement of photographers giving free portraits to those in need. Follow him on Twitter, Facebook and Google+.
By Jeremy Cowart, Special to CNN
Would you forgive the bully that tripped you in 3rd grade? What about the terrible service from that lazy waitress? Or the guy who cut you off on the interstate?
What about the man who murdered your children? If he asked you for forgiveness, would you grant it? Would you agree to spend time with him – maybe one day call him your friend?