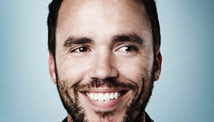 Editor's note: Jeremy Cowart is a Los Angeles-based celebrity portrait photographer and founder of Help-Portrait, a global movement of photographers giving free portraits to those in need. Follow him on Twitter, Facebook and Google+.
By Jeremy Cowart, Special to CNN
Would you forgive the bully that tripped you in 3rd grade? What about the terrible service from that lazy waitress? Or the guy who cut you off on the interstate?
What about the man who murdered your children? If he asked you for forgiveness, would you grant it? Would you agree to spend time with him – maybe one day call him your friend?
That's what some in Rwanda are doing: Forgiving and reconciling with murderers who killed their children, friends, siblings and parents during the 1994 Rwandan genocide.
See Cowart's Rwanda series on CNN Photos.
I recently met some of them face-to-face.
My journey to them began a year ago, when I attended a conference for young Christians called Catalyst. A filmmaker named Laura Waters Hinson presented her documentary "As We Forgive," about a pair of Rwandan women on a journey to reconcile with the men who slaughtered their families.
The 1994 genocide had seen tens of thousands of Rwandan Hutus, provoked by extremist propaganda, kill roughly 800,000 Tutsi neighbors. Hinson had been showing her film across Rwanda to encourage reconciliation in schools, churches and villages.
After she spoke, I presented "Voices of Haiti," a series of photos I captured in Haiti after the 2010 earthquake.
At the conference, Hinson and I discussed combining our projects into a "Voices of Reconciliation" photo series. We wanted Rwandans to have an opportunity to make their own statements to the world. Nine months later, I was in Rwanda, working with Hinson and her team.
I grew up in the church and am a practicing Christian. I've heard "love your neighbor" and "forgive others because God forgave you" my entire life. But I don't recall my church ever discussing the idea of forgiving killers.
Our culture certainly doesn't promote the idea. The terms we discuss are "death penalty" vs. "life sentence." We expect full justice at every turn.
No one ever goes so far as to say, "You know, you might consider forgiving the guy that killed your dad." And who would suggest building a relationship with the murderer?
But what if we did forgive because "God forgave us?" Christians believe that God offers forgiveness to the worst of humanity. God, via the death of Jesus, traded places with humanity, bearing the punishment for sin that everyone else deserved. For Rwandans, it's this theological principle that's enabling a growing phenomenon of radical forgiveness.
Let's put beliefs aside. What if our entire culture - Christian, Jewish, Muslim, atheist, whatever - forgave everyone,  even our worst enemies?
What if we generously tipped our waitress after terrible service? What if we stopped counting the wrongs of our spouse and gave them a clean slate? What if we forgave the uncle who sexually abused us as a child?
From what I witnessed in Rwanda, this kind of radical grace is possible. While incredibly difficult to accomplish - especially if the offender has not admitted their wrong and asked for forgiveness, it's a force that has the power to tear down walls and free hearts.
Hinson, whose film led to the creation of a Rwandan reconciliation organization, says that "some Rwandans liken unforgiveness to the experience of having acid eat you from the inside out. Others describe it like being trapped in a prison of hatred."
"For the victims," she says, "forgiving their offenders is a way of setting themselves free from the chains of anger and bitterness."
On the other hand, I was struck by meeting many perpetrators whose burden of guilt seemed to weigh almost as heavily on them as the victims' burden of pain. Forgiveness released both ends of the burden. It is perhaps the greatest thing I'll ever see in my lifetime.
The guys in the photo above wrote a message on their arms: "Love is the weapon that destroys all evil."
It's hard to believe that the man named Innocent, left, murdered five people, including the brother of Gespard, right. They are standing on the site of the executions.
After serving a few years in prison, Innocent was released upon confessing to his crimes. He begged Gespard for forgiveness during a reconciliation workshop sponsored by the As We Forgive Rwanda Initiative.
Like many Rwandans, these men participated in a reconciliation process that involved months of workshops, along with praying and doing agricultural work together, part of an ingenious effort to encourage reconciliation and alleviate poverty at the same time.
Today, Innocent and Gespard count each other as friends.
Other messages that survivors and perpetrators wrote on their signs are "Brothers in Forgiveness," "Truth restores trust" and "We restored our humanity."
Maybe we start small and decide to forgive the waitress, no matter what. Maybe if we begin with small acts of grace, we could one day find ourselves practicing radical grace and restoring humanity, too.
The opinions expressed in this commentary are solely those of Jeremy Cowart. Cowart's and Hinson's work in Rwanda was funded by a grant from the SEVEN Fund, an organization that promotes enterprise solutions to poverty.