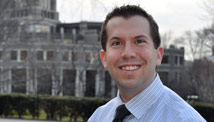 Editor's Note: Patrick Hornbeck is an assistant professor and associate chair for undergraduate studies at Fordham University.
By Patrick Hornbeck , Special to CNN
The Roman Catholic Church has long been a reliable source for one-dimensional storylines: Victims of sexual abuse call for justice. Parishes close as numbers of clergy plummet. Rosary-clad Catholics protest outside abortion clinics.
Perhaps nowhere has the storyline seemed more clear-cut than with regard to the church's treatment of lesbian, gay, bisexual and transgender (LGBT) people and their relationships.
Official Catholic teachings describe gay or lesbian orientation as "an objective disorder" and tell those who love their same-sex partners that they possess a "tendency… toward an intrinsic moral evil."
Catholic bishops have been public advocates for laws banning same-sex marriage, and some have sought to prevent LGBT Catholics and their allies from fully participating in the Church's rituals and activities
But neither formal teachings nor bishops' statements tell the whole story.
A series of recent conferences at American colleges reveals the breadth of Catholic approaches to issues of sexual diversity.
The conferences, part of an effort called More than a Monologue, have happened at two Catholic universities and two non-denominational divinity schools
The events conclusively show that American Catholics are hardly of one mind, nor in lockstep with their bishops, when it comes to same-sex marriage; to rights for LGBT people at home, at work, and in church; or to the ongoing campaign against anti-gay bullying in schools.
At Fordham University in New York, a Catholic school, a proud mother of a grown gay son drew a standing ovation when she told a story about discovering the effect of church teachings on her child.
Here's that mother, Deb Word, who has founded a group Fortunate Families to help Catholic families with lesbian daughters and gay sons, in her own words:
Fast forward to a family vacation in the Gulf. There were five of us floating—Sean and his wife, Chris, and his dad and me, holding onto each other's rafts. And I said, 'I think this is what Heaven is like.' And Christopher said quietly, "except I won't be there with you." "Son, where do you get this stuff?" "Mom, it's your club. You know the rules."
And if my cradle Catholic child, growing up in a loving family, got this message, then what does Catholic mean in more conservative homes? … And I wonder, why do I stay in a club that my son says is dangerous to his soul?"
Another panelist at the event described the freedom she feels as a result of living, within the church's rules, as a celibate lesbian.
A third, a physician in New York City, praised the Catholic tradition for its emphasis on human dignity and social justice, but added: "I am troubled by the fact that I find greater acceptance of myself as a whole person in my professional community as a physician, than I do in the official hierarchy of the church of my family, my childhood, and my life."
Nationally syndicated columnist Dan Savage may be better known for his very public critiques of Catholic leaders than for the year he spent in a high school seminary, or for his Catholic deacon father, or for the baptism he and his husband sought for their son.
But speaking recently at New York's Union Theological Seminary, Savage described his Catholic family and upbringing, celebrating parts of his Catholic experience.
At the same time, he refused to let the church off the hook for the part he accuses it of playing in tacitly condoning the bullying of LGBT youth.
Last month, at Yale University, a Catholic layman who teaches psychiatry spoke movingly of his attempt to offer church leaders the wisdom of his scientific field, and of his bitter disappointment when his offers were met with silence.
And at Connecticut 's Fairfield University, scholars, clergy, and lay Catholics recently discussed the implications for the church of having many gay and lesbian people, both in and out of the closet, in roles as priests and ministers.
These public events have brought into the light the struggles, compromises and choices about meaning and love that many Catholics experience daily.
Poll numbers show that while many of their bishops have been stepping up their rhetoric on the issue, only one-in-three American Catholics describe opposition to same-sex marriage as "very important." Seventy percent support legal recognition for same-sex couples.
All of us, Catholic or not, LGBT or not, owe it to ourselves and our fellow citizens to keep these new conversations going. Let's not to settle for only part of the story.
The opinions expressed in this commentary are solely those of Patrick Hornbeck.