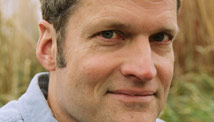 Editor's Note: Stephen Prothero, a Boston University religion scholar and author of "God is Not One: The Eight Rival Religions that Run the World," is a regular CNN Belief Blog contributor.
By Stephen Prothero, Special to CNN
(CNN) - On Wednesday, my students and I discussed Letter to a Christian Nation by Sam Harris. Like other atheism books, this is a rant against the unreasonableness of religion. In that sense, at least, it is timeless.
But it derives much of its urgency from its claim that the Christian Right is taking over contemporary American politics.
As I was preparing for class, I learned that Mississippi's voters had rejected the so-called "Personhood Amendment," which would have outlawed abortion in the state by affirming as a matter of law that human life begins at conception.
Which leads me back to Harris's fear that the Christian Right is overrunning the nation. This fear finds its mirror image in the fear of the Christian Right that the nation is being taken over by secular humanists.
These two views, while diametrically opposed, are strangely symbiotic. Together they fuel a culture war on which each side depends for both its identity and its mission. (Where would Jerry Falwell be without secular humanism? Where would Sam Harris be without the Moral Majority?)
But both fears are just that: fears. Or, to put it another way, if conservative Christians cannot pass an anti-abortion amendment to the state constitution in Mississippi, where can they pass one?
Granted, this amendment was particularly extreme. It would likely have outlawed not only abortion but also the morning-after pill, and with no exceptions in either case for rape. Even the Roman Catholic Church and some national right-to-life groups thought it was going too far.
Still, this ballot initiative went down to a double-digit defeat, failing by a 16-point margin in a state that has been described as the buckle of the Bible Belt.
So what is the lesson here? To me, what Mississippi's voters are telling us is that the New Atheists and the Christian Right both have it wrong. No, the country is not being overrun by crazy Christians. But neither is it being overrun by secular humanists.
The fact of the matter is that most Americans are in the middle on controversial questions such as abortion. Those that now "represent" us in Washington, both on the left and on the right, don't actually represent us in the sense of mirroring our views.
Iif we had assigned 12 random Americans to the so-called super-committee charged with dealing with the budget deficit by November 23, our chances of a compromise agreement would have been much greater than the current mix of 6 congressional Democrats and 6 congressional Republicans.
In One Nation After All, Boston College professor Alan Wolfe argued that the United States isn't as polarized as we imagine, at least not outside of Washington, D.C. Yesterday Mississippi's voters said basically the same thing.
The opinions expressed in this commentary are solely those of Stephen Prothero.