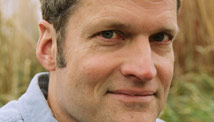 Editor's note: Stephen Prothero, a Boston University religion scholar and author of "God is Not One: The Eight Rival Religions that Run the World," is a regular CNN Belief Blog contributor.
By Stephen Prothero, Special to CNN
In the never-ending debate over whether the United States is a Christian nation, recent events support the nay-sayers. I am referring to the troubles of Herman Cain and Joe Paterno.
How we respond to ethical conundrums often boils down to empathy. In the abortion debate, do you identify with the woman who wants an abortion or with the fetus? Concerning the federal deficit, do you identify with the wealthy person who might see his taxes rise or with the poor person who might see her unemployment benefits extended?
One purpose of the world's great religions is to widen our circle of empathy beyond ourselves and our families to others in our community, and in the wider world. Christianity, for example, has long taught that we should empathize with "the least of these," and particularly with the poor and oppressed (see Luke 4:18).
The morality plays we are now witnessing—the sexual harassment allegations swirling around Republican presidential candidate Herman Cain and the sexual assault charges swirling around the Penn State football program headed by former coach Joe Paterno — provide an opportunity to assess just where our collective empathy lies.
When we look as a nation at the Herman Cain campaign, do our hearts go out to the wealthy businessman and White House contender or do they go out to the women who are accusing him of sexual improprieties? In pondering this case, and trying to determine where we stand, how do we approach the evidence? To whom do we give the benefit of the doubt? To the "least of these"? Or to the most powerful?
When we turn our gaze to Penn State, do our hearts go out to the boys, some as young as 10, who were allegedly sodomized or otherwise sexually assaulted by a former assistant coach under Paterno? Or do we empathize with Paterno, the closest State College, Pennsylvania, gets to a graven image?
I know there are many unanswered questions in both cases. So I am not commenting here on whether Cain is telling the truth or whether Paterno did all that he was obligated to do when he first heard allegations of a sexual assault in his locker room.
I am talking about where are hearts instinctively go in these situations.
When I turn on the television and see "family values" conservatives jumping to Cain's defense within hours of the first charges surfacing, or Penn State students rioting over the decision of their university's Board of Trustees to fire Paterno, I have to ask myself, "What has happened to this supposedly Christian nation"?
I know that in the United States defendants are considered innocent until proven guilty. But I am not talking about the law here. I am talking about where our hearts incline, and whether they incline in a Christian direction.
I do not know whether Jesus is a Penn State football fan. He may well be. But if he were here today, would he be laying flowers at the front door of Paterno's house (as many students have done), or would he be seeking out the boys whose lives have allegedly been so irreparably damaged?
Would he be standing alongside Cain's lawyer as he issues not-so-veiled threats against accusers who have not yet gone public with their stories, or would he be standing by their side?
In your heart of hearts, I think you know the answer.
The opinions expressed in this commentary are solely those of Stephen Prothero.