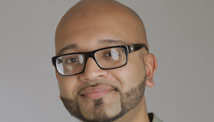 Editor's note: Aman Ali is a New York-based writer, stand-up comedian and the co-creator of 30 Mosques in 30 Days, a Ramadan road trip across America.
By Aman Ali, Special to CNN
Anytime I hear about a TV show coming out that features Muslims, my initial reaction is almost always "Oh man, please don't suck. Please don't suck."
Unfortunately with TLC's new reality show, it does.
"All-American Muslim" is the network's new series about a group of Muslim families living in the Arab-rich city of Dearborn, Michigan.
Brilliant! What better way to show the mainstream public an insight into how multicultural and intellectually diverse Islam's followers are… with a show focusing on just Arabs (20 percent of the world's Muslim population) who follow the Shia sect of Islam (about 10 percent of the world's Muslim population).
The show, which premiered over the weekend, presents itself as a glimpse into the American Muslim community but ignores an overwhelming majority of the cultures that comprise it. South Asians like my parents, who came from India, make up one of the largest group of Muslim immigrants in the United States.
That doesn't bother me as much as the fact that the show makes no reference to African-American Muslims, another huge American Muslim group. Many of the black slaves that built the foundation of this country with blood, sweat and tears were Muslim.
And Malcolm X, Muhammad Ali, Dave Chappelle and Lupe Fiasco are all American Muslims, too. Hell, Detroit is right next to Dearborn. All the producers had to do was turn around and they'd find one of the most active African-American Muslim communities in the country.
The first episode said Dearborn has the largest population of Arabs in the United States – a statistic I've heard echoed time and time again. But I just checked the latest statistics from the U.S. Census Bureau and learned that the Arab population in New York City is more than twice that of Dearborn. Seems like TLC can't even stereotype correctly.
A bigger issue I have is with the show's characters.
One woman is a boozing, tattoo-laden rebel child who wants to marry an Irish Catholic. Another is a scantily-clad and confrontational business shark who dreams about opening her own nightclub.
While I appreciate that the show is implying that Muslim women are more than just devout, headscarf-wearing housewives locked in the kitchen all day, why do the "liberal" characters represent an opposite extreme? Most Muslim women in this country don't fit neatly into the ultra-conservative or ultra-liberal categories. They're in the gray area.
The men on the show, meanwhile, are just plain boring. There's a Muslim cop who insecurely reiterates his patriotism every 10 seconds. I'm surprised he doesn't sleep in American flag pajamas and that his cell phone ringtone isn't a Toby Keith song.
My favorite part of the show's first episode is the spotlight it throws on the predominantly Muslim football team at Dearborn Fordson High School. "All-American Muslim" spends significant time on the team but leaves out that they're 6-5 this season and scoreless in the first game losing by more than 40 points.
While its great that faith means so much to these players, it would be nice if scoring touchdowns meant just as much to them, too.
I recently co-created a project with called 30 Mosques in 30 Days, in which my friend Bassam Tariq and I drove over 25,000 miles to each of the 50 states to tell unfiltered stories about Muslim Americans. "All-American Muslim" doesn't speak for them, nor does it speak for me.
These stories bear little resemblance to the narratives of my own or the ones I've stumbled across in my community.
You want to do an authentic story about an American Muslim? Do a story about a scrawny 20-something guy who awkwardly spends months mustering up the courage to tell a girl he likes her. Or girls that blabber about another girl they see talking to a guy for more than 11 seconds.
Best yet, passive aggressive parents that try to segue anything that comes out of your mouth into a lecture about why you should have been a doctor or why you're going to die alone if you don't get married by age 23.
That's Muslim America. They're stories of people no different than any one else in this country.
TLC has disappointed me. But maybe that's not saying much, considering the network airs two shows exploiting the lives of little people and one called "I Didn't Know I Was Pregnant."
The opinions expressed in this commentary are solely those of Aman Ali