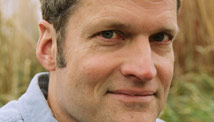 Editor's note: Stephen Prothero, a Boston University religion scholar and author of "God is Not One: The Eight Rival Religions that Run the World," is a regular CNN Belief Blog contributor.
By Stephen Prothero, Special to CNN
When we think of the New England Puritans who gave to us Thanksgiving, we tend to run to predictable nouns, including killjoy and prude.
But Thanksgiving is a festival, which is to say it was made for fun. And New England's Puritans were by no means allergic to fun.
To be sure, they aimed (as their name implies) to "purify" the Church of England of every last vestige of Roman Catholicism. So they refused to celebrate Roman Catholic festivals, not least Christmas, which was banned by the General Court of the Massachusetts Bay Colony in 1659.
These Puritans were not as puritanical as we imagine, however.
Early Puritan funerals were surprisingly simple affairs. There were no fancy coffins or tombs, and funeral ceremonies were so simple as to be almost nonexistent.
How to talk politics at Thanksgiving table
But after the corpse was buried there were lavish funeral dinners, accompanied by lots and lots of alcohol. According to historian David Stannard, "it was not uncommon for funeral expenses to consume 20 percent of the deceased's estate," much of it spent on booze.
Puritans denounced drunkenness, of course, but that doesn't mean it didn't happen.
According to Jessica Kross, another colonial historian, after some funerals, "entire communities, children included, became intoxicated." While hard alcohol was frowned upon, beer and wine were celebrated as gifts from above.
Another gift from above was sex, which New England Puritans liked just about as much as the rest of us (or more). They sought to channel sexual desire into the institution of marriage, but inside marriage they let their lusts run free.
The power of nostalgia at Thanksgiving
In a classic article called "The Puritans and Sex," Edmund Morgan demonstrated not only that New England's Puritans whooped it up in the marriage bed, but also that they dealt with the sex offenders in their midst with sympathy rooted in their view of human frailty.
These Puritans looked upon the Catholic preference for sexual abstinence as abnormal and unscriptural, pointing to Old Testament patriarchs such as Isaac who "sported with Rebecca his wife." And sex wasn't just for men either.
New England's Puritans disciplined church members who refused to have sex with their wives, including one James Mattock, excommunicated from his church in Boston in 1640 because he "denied conjugal fellowship unto his wife" for two years.
These passionate Pilgrims also allowed women to sue for divorce if their husbands were unable to satisfy them sexually.
To return to Thanksgiving today, we should of course imagine America's early celebrants of this holiday bowing their heads to thank God for a bountiful harvest, and perhaps even for the Native Americans who saved them from starvation. But part of that harvest was beer and wine, and after the eating and drinking was done, plenty of Puritans thanked God for saving them from celibacy.
The opinions expressed in this commentary are solely those of Stephen Prothero.