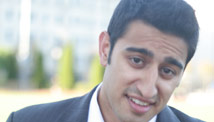 Editor's Note: Khurram Dara is the author of "The Crescent Directive: An essay on improving the image of Islam in America," coming this winter (Tensile). He tweets @KhurramDara.
By Khurram Dara, Special to CNN.com
For the last decade, Islam has been under a lot of scrutiny, and understandably so. When you've got terrorists all over the world declaring war on America and the West in the name of Islam, it's only natural that people will have questions.
But this reasonable concern has rapidly turned into irrational suspicion, with anti-Muslim groups seizing on the opportunity to paint all Muslims in America as radical-loving, violence-approving foreigners.
The problem is that the response from American Muslims has been about as effective as Herman Cain's PR strategy in the face of sexual harassment allegations. Instead of pooling our resources to combat radicalism, or taking a more active role in our communities so that other Americans better understand us, we've resorted to defense tactics.
We tell people that the Quran is being taken out of context. We focus on efforts to try to "educate" the American public. And we desperately cling to the idea that if people just had a better grasp of the facts on Islam, they wouldn't buy into anti-Muslim propaganda.
Unsurprisingly, none of that has changed Americans' view of Islam.
So when I heard that TLC was doing a reality show about several American Muslim families, I was intrigued. The show wasn't going to feature scholars refuting the (ridiculous) claims made about Islam. It was going to show regular Muslim families living in America. It was going to show, rather than simply tell, people about Muslims and Islam.
After three weeks of airing, "All-American Muslim" has done just that. Whether it was Mr. Aoude prepping his pregnant wife for that hectic hospital trip, or newlyweds Jeff and Shadia worrying about how their families will get along, it has shown viewers the single most important truth that will change the perceptions of Muslims: We are just like everyone else.
There has been widespread praise from TV critics, calling the show "intimate and heartfelt" and "as good as it gets" and praising TLC for how it has "upended the conventions of reality television."
The show's premiere had 1.7 million viewers, making it the No. 2 program in its time slot among key demographics and scoring TLC's best Sunday prime time performance in more than a year.
Predictably, the show was also met with harsh and unfair criticism. Anti-Muslim groups wasted no time citing this as another example of Muslims trying to "take over" America.
This was expected. What wasn't expected was the reaction from some other American Muslims.
"The families aren't Muslim enough."
"They aren't good role models."
"They don't represent all American Muslims."
Is the show a perfect cross-section of the American Muslim demographic? Are they the most religious families? Is it full of people you aspire to be one day?
No, of course not. It's reality TV. It's entertainment. We American Muslims ought to look at it in the grand scheme of things instead of just criticizing the show by saying it "doesn't represent me."
You're right. It doesn't represent you.
That's because no TV show, no organization, no movement is ever going to represent you better than you can represent yourself.
"All-American Muslim" is not going to change the image of Muslims on its own. But it's got the right idea. It's premised on the fact that people judge a group not just on its beliefs, but also on their interactions with members of that group.
So if you don't think "All-American Muslim" represents you, then go out into your community and show people what being Muslim is all about, from your perspective. Whether it's a book club or a basketball league, we can all have our own "All-American Muslim" moments.
The most important take-away from a show like "All-American Muslim" is that we Muslims should focus our efforts on showing average Americans that we share far more in common with them than some would like them to believe.
And you don't need a TV show to do that, you just have to have the courage to break out of your shell and share in those experiences with your American brethren.
Don't treat TLC's reality show as the only hope for changing our image, or as our one shot at showing America what Islam is all about. Don't treat it as needing to be a flawless, immaculate portrayal of Muslims in America.
Treat it as a first step. Consider it a new approach. Look at it as the beginning of the long journey we have ahead, in changing the negative stereotypes about Muslims in America.
The opinions expressed in this commentary are solely those of Khurram Dara.